Media Monday: Stan to stream Showtime and CBS TV shows, iSentia to scrape newspaper content, SBS outsources broadcast playout
In Australian media news this week, streaming service Stan partners with Showtime and CBS, iSentia is allowed to scrape paywalled content from Australian newspapers, SBS outsources its broadcast playout, CarsGuide has success after business transformation, Benefit Cosmetics will advertise on Instagram and the ACMA warns of changes to wireless microphones.
Stan to stream Showtime and CBS TV shows
Australia's newest streaming service, Stan, has gained the rights to show more than 1200 hours of Showtime and CBS programming as part of a non-exclusive content licensing agreement.
Programming will include Showtime original series Ray Donovan, Dexter, Californication and Nurse Jackie, early seasons of The Good Wife and Blue Bloods, the complete collection of the digitally remastered Star Trek: The Original Series, seven seasons of Star Trek: The Next Generation and the complete collection of Star Trek: Deep Space Nine.
Stan is a joint venture between Nine Entertainment Co and Fairfax Media providing video on-demand services in full HD to TVs, tablets and smartphones.
iSentia gains scraping licence to harvest newspapers' paywalled content  
iSentia Group has received Australia's first licence to scrape certain online news and magazine content for clients.
The licence, developed by the Copyright Agency on behalf of Australian newspaper and magazine publishers, includes paywalled content from Fairfax Media and NewsCorp Australia including the Australian Financial Review and The Australian.
iSentia will curate headlines and portions of text from online articles, delivering news alerts to its clients including links to the original articles.
SBS outsourcing its broadcast playout
SBS will become Australia's first media company to adopt digital cloud-based playout of its SBS One and SBS 2 channels when global media company Deluxe Australia becomes its managed service provider from next year.
Deluxe Australia will takeover SBS broadcast playout from 27 January 2015, initially continuing at the existing SBS headquarters in Artarmon until a new facility is completed at Lane Cove in Sydney's north.
All 58 broadcast operations and engineering employees will be offered to transfer their employment to Deluxe on similar conditions – "no less favourable from their current terms of employment".
The transition has been in progress for more than 18 months and is unrelated to the Federal Government's recently-announced funding cuts.
First month of CarsGuide business transformation a success
CarsGuide's move to a more transparent business model using location-based search and pay-per-view is already yielding it positive results after one month in the market:
Its audience is up 15% while its competitors' audience figures have dropped,
in the first month since relaunch, it had private listing growth of 32%, and
it has been ranked number 10 in the Deloitte Technology Fast 50.
A recent report by Hitwise showed the number of people visiting both CarsGuide and competitor Carsales has increased but the amount who are exclusively looking at Carsales has dropped.
Benefit Cosmetics to launch Instagram advertising campaign
San Francisco-based Benefit Cosmetics has announced it will launch Instagram advertising in Australia from today.
It will join Lenovo and Qantas in the second round of brands to partner with the social media platform to produce sponsored content (Instagram first launched ads in Australia in September following launches in the US and UK).
Benefit Cosmetics says it seeks to be "consistently disruptive – in the nicest way possible of course!".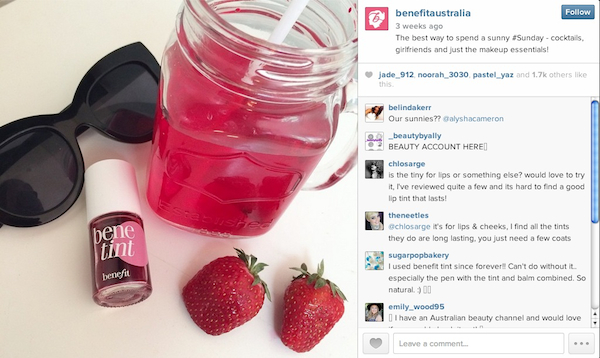 Changes to wireless microphone radio waves in 2015
The Australian Communications and Media Authority (ACMA) is warning anyone who uses wireless microphones that they may need to retune or upgrade their gear when changes to radio wave regulations take place in the new year.
From 1 January 2015, the 694-820 megahertz (MHz) radio wave range will no longer be available for devices such as wireless microphones as it will be used to deliver advanced 4G mobile broadband services.
Check out the below infographic for more information.
Click to enlarge.