Media Monday: Wyza targets tech-savvy baby boomers, Inkl app 'the Netflix for news'
In Australian media news this week, Wyza, a new digital platform targets tech-savvy baby boomers, new Australian app Inkl unlocks news paywalls from around the world under a freemium model, BBC relaunches its news app, a change to government job advertising set to hurt Fairfax and News Corp, Good Weekend editor Ben Naparstek joins SBS, and Yahoo7 and Sensis partner.
Wyza targets tech-savvy baby boomers
A new digital platform, Wyza, has launched to target tech-savvy baby boomers and provide marketers with an opportunity to tailor communications to this powerful segment.
The new site is a rebrand of RetirementLiving.TV, which was launched in 2014 to provide information on retirement living and aged care.
Wyza.com.au now publishes content across financial planning, insurance, travel, property loans, entertainment and real estate as well as retirement, aged care and home care industries.
Founder and CEO, Michael Farley, says the site fills a gap in the market and responds to research has shown over-50s dislike the way many advertisers communicate to them.
"Over-50s have increasing spending power, greater freedom and aptitude for technology but brands seem to miss the point when it comes to selling products and services to them."
Inkl unlocks global news with subscription app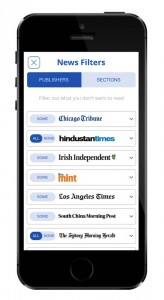 An Australian app describing itself as "the Netflix for news" is offering consumers the ability to access multiple paywalled newspapers on their smartphones.
Inkl's launch partners include The Sydney Morning Herald, The Guardian and The Washington Post.
The app operates using a 'freemium' model, providing some content for free but providing additional benefits to premium subscribers for $10 or $15 per month.
A unique licensing partnership will provide publishers with "significantly more revenue per article read than current advertising rates".
The app is currently available on iOS and is soon to be released on Android.
Other publishers currently on board include Hindustan Times, The Times of India, Livemint, Chicago Tribune, Los Angeles Times, Irish Independent, The Atlantic, Al Monitor, The Canadian Press, The Independent UK, The Toronto Star and USA Today.
Founder and CEO Gautam Mishra is backed by North Base Media, a specialised investment firm co-founded by former editor of The Washington Post and The Wall Street Journal, Marcus Brauchli.
New BBC news app
The BBC has launched a new, redesigned international BBC News app for iOS and Android devices, which has already attracted 1.5 million downloads.
The app centres around customisable content with a new My News section, including personally selected or recommended topics from the network's global content.
Other features include: mobile-first video designed specifically for digital platforms, live BBC World Service radio, most-read and most-watched sections, onward journeys to related articles and video, photo galleries and full-screen images and support for Android wearables and the Apple Watch.
The app responds to demand for news via mobile and tablet, which has boomed since the organisation launched it first news app in 2010.
Government job advertising change to hurt Fairfax and News Corp
The Australian is reporting that Fairfax Media is at risk of losing between $20 million and $30 million in revenue since the federal government changed its rules to no longer require senior department jobs to be advertised externally.
While most of the government job ads are currently placed in News Corp's The Australian and Fairfax's The Australian Financial Review, Fairfax is most reliant on these, with the government accounting for about 60% of its job ads.
Good Weekend editor Ben Naparstek joins SBS
SBS has announced the appointment of Ben Naparstek as head of editorial for online and emerging platforms. Naparstek has more than six years' experience with Fairfax Media's Good Weekend, as editor, and with national politics and culture magazine The Monthly.
He will commission and acquire content and for the SBS websites and work on other cross platform initiatives.
Naparstek was last week the subject of a backlash from Please Like Me actress Caitlin Stasey, who attacked the magazine in a series of tweets including one that read: "Good Weekend magazine suddenly doesn't have the space to run a piece on me because I wouldn't do a shoot in my underwear."
Yahoo7 and Sensis partner
Yahoo7 has announced an advertising partnership with Sensis, in which the company will become the sales representative for display and programmatic advertising across the Sensis network.
The announcement follows a competitive tender process.
Sensis' digital brands include Yellow Pages, White Pages, Truelocal, Whereis and Skip. It also operates digital agency called Found.
Yahoo7 is a 50-50 partnership between the Seven West Media Group and Yahoo Inc.