Media News: Instagram, Facebook, Women's Weekly, reality television and more
Making media news, Instagram finally releases long-awaited upgrades, Facebook adds auto captioning, SBS2 and The Australian Women's Weekly announce key appointments, an on-demand reality TV service comes to Australia, Tumblr partners the Laneway Festival, Southern Cross Media Australia continue a lengthy partnership, and more.
Instagram announces long-awaited upgrades
Instagram has announced the launch a video views count feature to its application.
Views will appear under videos where the number of 'likes' is typically displayed. 'Likes' can still be seen by tapping the view count icon.
According to the social media giant, the amount of time people spend watching videos on the app has risen by 40% over the past six months.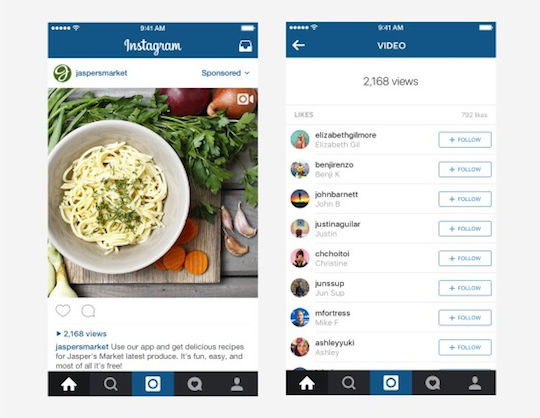 In further news, Instagram will now let users switch between multiple profiles without signing out.
Although only a minor upgrade, the feature will save time and annoyance for brand, community and social media managers who are constantly having to log in and out of different accounts.
Account switching will be available for up to five different accounts.
On-demand reality TV is coming to Australia
The Kardashians just became a little bit easier to keep up with. A new on-demand reality service is set to launch in Australia this March.
Hayu, a service developed by NBCUniversal International, will feature over 3000 episodes of popular shows, including Keeping up with the Kardashians and Real Housewives.
NBCUniversal International chairman Kevin MacLellan says the product is significantly geared towards social interaction.
"We know that reality content is a primary driver of social interaction and that fans of reality TV significantly over-index in online viewing.  We set out to build a service that elegantly combines the best high-end reality shows with the most popular social media and digital news platforms.  Uniquely in hayu, fans can find it all in one place," says MacLellan.
Australian magazines drive audience impressions
Magazine audience impressions increased by 3.1MM in the quarter ending December 2015, a report by Magazine Publishers Australia has found.
The increase was largely driven by social media, across large platforms including Facebook, Twitter, Instagram and Pinterest.
The report analyses data from 46 Australian magazines over print, digital and social data. Data was collected from emma, Nielsen and social media platforms.
Facebook announces auto captioning
Facebook are now offering two lines of free automated captions for branded videos.
The new tool aims to capture viewers attention as quickly as possible, before they move on.
Monetisation product marketing vice president Matt Idema says the new feature utilises the most effective way to advertise in a mobile feed environment.
"Numerous studies and campaigns have made it clear that capturing people's attention at the very beginning of a video is the most effective way to advertise in a mobile feed environment. Video advertisers that tailor their creative with visuals that get people to stop scrolling and watch will drive the best business results on Facebook," says Idema.
It is being estimated that by including captions, advertisers will increase their video view time by an average of 12%.
SBS 2 appoints new channel manager
SBS has appointed John Beohm as SBS 2 channel manager in the television and online content division.
Beohm, the current senior programming and editorial manager, will become the editorial and strategic lead for SBS 2.
"I'm honoured to be joining such a unique network and to be leading SBS 2 to deliver even higher quality and more distinctive content and ensure we maintain SBS 2's clear sense of identity in an ever changing media landscape," says Beohm.
Bauer Media names new Australian Women's Weekly editor-in-chief
Kim Wilson has been appointed to the position of editor-in-chief of The Australian Women's Weekly.
Wilson joins The Australian Women's Weekly from NewsLifeMedia, where she was editor-in-chief of Kidspot.com.au.
"I'm honoured and excited to be stepping into the shoes of so many great editors before me. I can't wait to join such a well-respected team, roll up my sleeves and deliver great stories for our readers," says Wilson.
"The Australian Women's Weekly holds a special place in the hearts of Australian women, I hope to do them proud," she says.

Mobile news media readership continues to soar
Australians are turning to mobile devices for their news at an increasing rate, with readership up 16% year on year, according to data released by EMMA.
While accessing the news by smartphone is emerging as a clear favourite among Australians, PC and laptop still remain the most popular way to read the news via media platform.
Interestingly, print still remains the preferred platform with the majority of Australians, at 77% (13.8 million) of the population.
Tumblr partners with Laneway Festival
Tumblr has announced a partnership with the Laneway Festival, making it the festival's official photo media platform partner.
The partnership will see Tumblr capture video content throughout the festival, including onstage filming, backstage interviews and the 360 selfie.
Yahoo7/ Tumblr Australia head of consumer marketing and PR, Jocelin Abbey says the partnership will allow people to relive their favourite moments from the festival.
"Our focus is to capture amazing content that people want to watch again and again. Whether it was their favourite moment, or just reliving the day, we hope to provide a platform for audiences to share their unique content in the way they way," Abbey says.
Southern Cross Media announce long-term contract with Australian Traffic Network
Southern Cross Media (SCA) have announced a 20 year contract extension with the Australian Traffic Network.
The deal will allow the Australian Traffic Network to prepare traffic reports to be broadcast on SCA radio stations.
The extension continues a long relationship between the companies – The Australian Traffic Network has been providing traffic reports to SCA for over 10 years.
The contract commenced on 1 February.
Traditional advertising media still have great effect: Adshel
A recent study by outdoor media company, Adshel has found that the classic outdoor poster or billboard, greatly enhances the effectiveness of a campaign.
The study, conducted in conjunction with independent research company Fiftyfive5, measured a number of broadcast campaigns, which also ran across other platforms, including TV, radio and online.
The results determined that combining street furniture with a media campaign, increased the effectiveness at each stage of the customer journey. Effectiveness metrics determined this increase can be anywhere between 21% to 89%.
In addition it was found that adding street furniture to a broadcast campaign to a media schedule, increased advocacy by 89%.