Meet the experts: anthropologist, professor, banker to star on The B2B Lab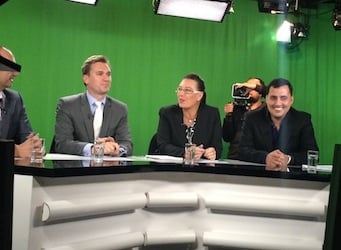 An anthropologist, a professor and a banker walk into a studio… 
But this is no joke – it's B2B marketing – and you're invited to pick their brains. What will you ask?
Join Jason Juma-Ross, Professor Bill Merrilees and Ian Webster on Tuesday 26 August as they tackle the big questions in business-to-business marketing in Australia, by tuning in at 11am to The B2B Lab, the live-streamed panel show where viewers ask the questions.
This episode, they'll take on one of the biggest, baddest issues of all: the GFC. Or more interestingly, the post-GFC Australian business environment. Have B2B sectors 'closed the door' on tough times? What changes are permanent, and what's returning to normal? What even is the new normal?
Anything and everything about B2B business and marketing is fair game – don't hold back.
Meet the experts
Jason Juma-Ross is PwC's Digital Intelligence Lead. He has 20 years experience in research, digital business, analytics, and media focused on exploring human-technology interactions. His career has taken him from anthropology through advertising and research, to strategic consulting, where he now helps leading organisations create disruptive digital and data-focused businesses.
Bill Merrilees is Professor of Marketing in the Department of Marketing at Griffith Business School. His research interests are branding, marketing strategy, franchising, retailing, emarketing and SMEs. He has consulted extensively with Shell, Westpac, Australia Post, a major property company, a major accounting practice, various government agencies and numerous small and medium enterprises. Bill has also published numerous books and has a PhD from the University of Toronto.
Ian Webster is a managing director in Accenture's Financial Services business, responsible for leading the Financial Services Distribution, Marketing and Analytics practice across Asia Pacific. This encompasses all points of customer interaction, (across physical and digital channels), together with supporting enablers and capabilities.
Getting involved is easy
Step 1 – Register for the show.
Step 2 – Submit your questions for the panel by joining the conversation using the #b2blablive hashtag or using the chat box during the show.
Step 3 – That's it! We'll remind you via email before the event goes live so you don't miss it.