Melbournians aren't the only ones finding dumb ways to die
Metro Trains' popular 'Dumb Ways to Die' safety campaign is set to make its international debut, after being adopted in the Denver metropolitan area of Colorado, USA.
The Regional Transportation District (RTD) made the announcement as they prepare to expand their network, and have also adapted the campaign to include messages for Denver bus customers.
RTD interim general manager and CEO Dave Genova, said the campaign had a proven track record and was a good way to maintain the RTD's excellent safety record.
"Safety is RTD's number one priority, and we have an excellent safety record that we want to maintain in the upcoming year with the expansion of our bus and rail service,"
"The Dumb Ways to Die campaign has proven to be wildly popular and effective in Melbourne and we plan to use it here in Denver metro area to bring the serious message of being safe around buses and trains to a wider audience through humor and animation," said Genova.
The program is set to be rolled-out from January 21 and will include educational resources for children, the train and bus awareness campaign, and a digital interface to interact with the Denver public on platforms including Facebook and Twitter.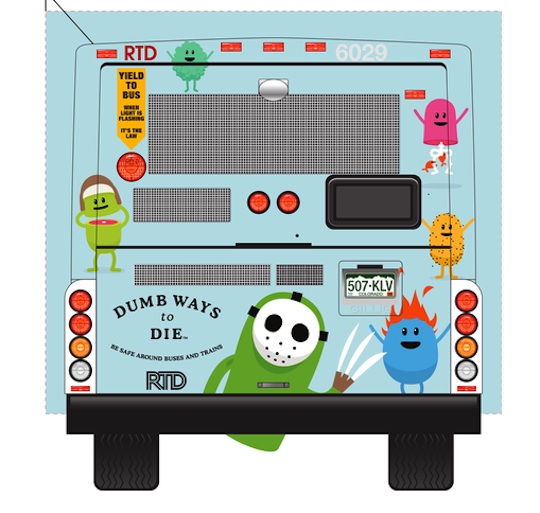 Metro Trains Melbourne chief corporate relations and business development officer Leah Waymark, said the opportunity to license the campaign internationally proved that safety around public transport is a global problem, and hoped the 'education made entertaining' element on the campaign will make a difference in Denver, as it has Melbourne.
"Too often we see people take risks and do dumb things around trains, right around the world. Our campaign evolved in 2012 out of a discussion with platform staff and drivers who witness people risking their safety around train stations and at level crossings. We wanted to teach people about the importance of rail safety and the very real consequences of taking a risk to save a few minutes," he said.
"Education made entertaining and in particular, educating young people about being safe around trains (as well as buses and anything else) in a style and language young people will engage with is at the core of what this campaign is about," said Waymark.
The Dumb Ways to Die campaign has been an enormous success in Melbourne. Since its launch in November 2012, it has received over 190 million YouTube channel views, over 185 million downloads and over 3 billion games played.
More importantly, it has received over 100 million pledges to be safe around trains.