KFC pushes brand values, not chicken in latest ad campaign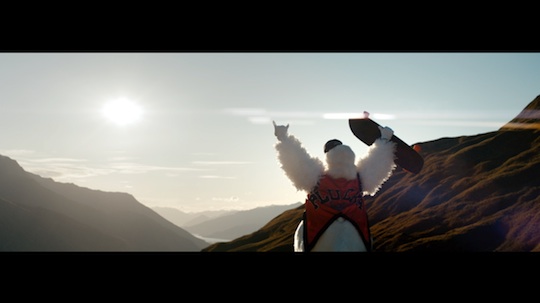 In an effort to promote its values, rather than its product, KFC is using words of wisdom from its founder, Colonel Sanders as inspiration for its first ever brand campaign in Australia.

The Colonel's saying 'life should always be finger lickin' good', is at the forefront of the campaign, which pushes the philosophy that life should be lived to its fullest, and is best lived when people are being true to themselves.
The new ad, created by Ogilvy Sydney, stars television personality Plucka Duck, who hasn't been seen on Australian screens since Hey Hey It's Saturday finished broadcasting in 1999 (returning for one season in 2010).
The minute-long ad features Plucka riding a skateboard down a steep, winding mountain road, living his life to the fullest.
At the end of his run, he kicks up the board and raises his arms to the sky, at which point the companies logo appears with the Colonel's words.
The concept of a duck on a skateboard, advertising a fast food chicken chain is sure to raise some eyebrows, however Ogilvy Sydney group creative director Shaun Branagan said the mashup is quite deliberate.
"For a brand that traditionally has focused on its food, and a company with a history of being original, it was important KFC's first foray into brand advertising was designed to provoke. As a result, the first element of the campaign is a deliberate mashup of pop culture icons; the mischievous Plucka Duck, who was always up for a stunt no matter how madcap, and longboard skateboarding which encapsulates sheer exhilaration and freedom," Branagan said.
KFC SOPAC chief marketing and development officer Nikki Lawson said the new campaign was designed to ensure the public's love of the chicken giant's product extended to the brand itself.
"We know that Australians love KFC's chicken, but we wanted to ensure that affection extended to the KFC brand itself. So we looked to its founder, Colonel Sanders to get to the heart of what the KFC brand stands for. It was his original recipe, values and life embracing approach that continue to shine today," she said.
"Life moves at a fast pace and there seems to be a greater need to fit-in, and conform with everyone else, and sometimes a bit of our uniqueness, what makes us special, can get suppressed. We want everyone to celebrate their originality. The new campaign explores this concept, clearly connecting it back to the KFC brand," Lawson said.