Mercedes-Benz invites innovative businesses to hack its van
Mercedes-Benz Vans has invited contestants to pitch an innovative business surrounding its new Vito van in its 'Hack My Van' competition campaign.
Mercedes-Benz Vans has invited small businesses, start-ups, teams of developers, designers and creatives to assemble teams of like-minded entrepreneurial thinkers and pitch business ideas which use the Vito van as the canvas.
The panel of judges includes chef and restaurateur Shane Delia, Mercedes-Benz Vans Australia and New Zealand managing director Diane Tarr, and Jane Martino, of Unlockd and Tribe, co-founder of Smiling Mind and board member at Launch Vic.
Six two-to-three person teams of entrants will be selected in the 'Hack My Van' event, and the winning team will win one of the new Vito vans.
–
Related: Read how Harley Davidson Australia's recent creative campaign and Jeep's 'Grand Land' campaign are using different competition and prize draw campaigns to engage with consumers.
–
The six teams are to compete in a one-day 'hackathon' where their creativity is put to the test via a series of competitive exercises, working alongside a team from Mercedes-Benz Vans, product experts and industrial designers to bring their idea to life – redesigning a Vito van in an innovative and creative way.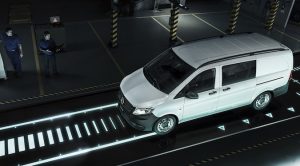 "We believe that the humble Vito has long been underestimated and has simply been used to get a job done. When we see a van however, we see something different. We see the potential inside. We are excited by the ideas and possibilities for how the Vito van can be reimagined to transform an existing business, or completely reinvented to create new businesses," Diane Tarr says.
Entries for teams close on 27 July 2016, and the 'hackathon' is to be held on 6 August.
* * * * *
Purchase a subscription to Marketing for the latest insight, analysis and case studies on Australian brands and campaigns.
* * * * *