Mobile advertising draws more eyeballs but engagement remains stagnant
Mobile advertising is becoming more pervasive in the minds of phone owners, with around one in two now claiming to have noticed it, but the proportion who have engaged with mobile advertising has not increased in the last year, according to a study.
The eighth 'Australian Mobile Phone Lifestyle Index', conducted by researcher Complete the Picture Consulting and industry body AIMIA, found that while the noticeability of mobile advertising had increased, only 54% of mobile phone owners had engaged with, or opened the link of, an ad.
The study, which polled a sample of 1784 people 'broadly in line' with the 18-75 year old national population, looked at awareness and engagement with a number of advertising and message formats delivered via mobile.
Director of Complete the Picture Consulting, Dr Marisa Maio Mackay, wasn't surprised that engagement levels were roughly the same as last year. "We're seeing the market consolidate this year," Maio Mackay says. "New people are being exposed to the advertising but they're still trialling it, so that dilutes some of the figures."
"Next year we should see it increase again, as another wave users come through and people become more comfortable with it."
The number of mobile users who had seen or engaged with mobile advertising was strikingly similar across the different type of ad units. Each type has been encountered by around one in two of the sample, with search and banner ads the most commonly stumbled upon and vouchers or coupons the least widely noticed. Search ads were the most likely to be engaged with upon being seen and vouchers or coupons the least likely.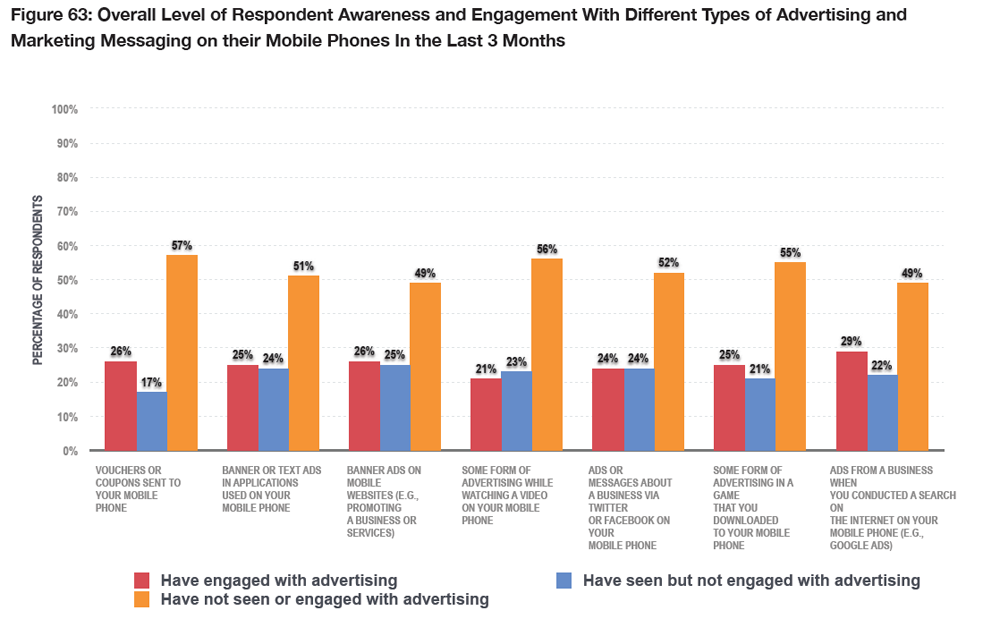 Maio Mackay adds that trust will be the crucial element in enticing more users to engage with mobile advertising. "When there's a trusted brand behind it that facilitates trust and will increase engagement… but the brand will have to do some hand holding and walk with the consumers to develop that trust."
The study also found that smartphone penetration could be higher than widely believed, at 76% – even higher than the lofty figure of 68% reported recently by Frost & Sullivan. While Maio Mackay admits the sample may skew towards residents of metropolitan areas and is reliant of self-reported phone ownership, the profile of participants is broadly in line with the ABS' socio-demographic profile and RDA Research's geoTribes, making the findings representative of mobile phone owners aged 18 to 75 years.
Tablet penetration was also found to be higher than all previous reports at 38% of the mobile phone owning population aged 18 to 75 years. Maio Mackay says tablets ownership is growing rapidly, far quicker than smartphone penetration did, and forecasts that 50% will own one by December 2012 and 71% by mid-2013, based on stated purchase intent.