Interbrand: Coca-Cola pips Apple as top brand, Aus brands need to internalise values
Coca-Cola has topped the list of Interbrand's Best Global Brands for the thirteenth year running, but its reign looks set to come to an end next year if Apple continues to grow.
Valued at US$76.6 billion, $1.2 billion behind Coca-Cola, Apple's worth grew by 129% over the past year, according to the brand consultancy, which takes a more conservative view of brand as a long term asset than rival top brand measure Millward Brown's BrandZ.
Interbrand's list of top brands, which includes IBM at number three, Google at number four and Microsoft at number five, was dominated by the technology category, which was by far the strongest as a consequence of the shift from an industrialised to an information-technology age, says CEO of Interbrand Australia, Damian Borchok.
"The sheer growth in tech companies defined the study, particularly with Apple where it had 129% growth in brand value this year to jump into the number two place. That growth is likely to put it into the number one place next year."
Coca-Cola, by comparison, showed steadier growth at 8%, while other top movers Amazon, Samsung, Nissan and IT company Oracle clocked double-digit gains to move up the ranking.
Google strengthened, up 26% to $69.7 billion, to take third spot off Microsoft, which dropped to fifth with a decline of 2% to $57.9 billion. Samsung moved into the top 10 for the first time with a value of $33.0 billion, and was joined by the most valuable automotive brand Toyota on $30.3 billion. The pair were two of the ten brands from Asia Pacific to make the top 100, compared with 56 from the Americas and 34 from Europe and Africa.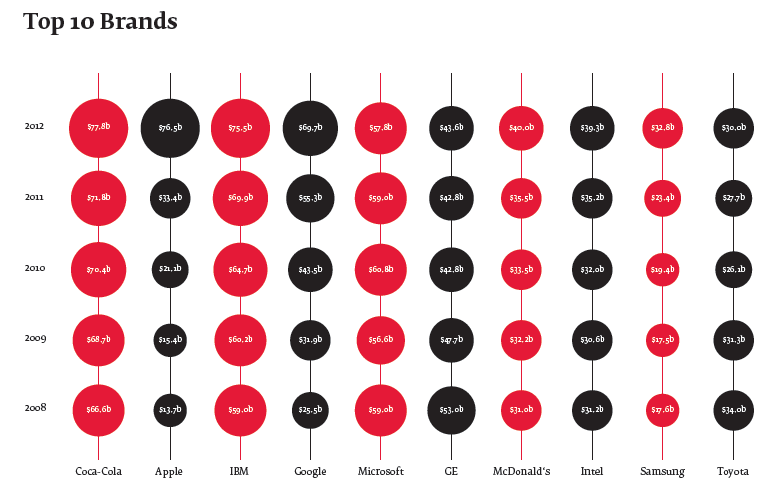 Borchok says one of the key ingredients in the top brands' success was an internal culture that uses the brand as a "lens for judgement across the whole business". "The innovation that they apply, not just product innovation, but in the way they innovate their business models, services, the way that they use not simply traditional marketing and communications as a way of brand building but how they operationalise that… They're aligning and operationalising the brand through the whole business so it's not just departmentalised in marketing."
Brands that align their internal processes to their brand have a strong sense of purpose and focus, Borchok says, noting that Australian brands could be better in this respect. "I still see way too much focus on marketing communications rather than using brand as a way to align people products and service, channel management, etc. There is still way too much reliance on using communications to build a promise but not necessarily stitch a whole business together."
Looking at other sectors, FMCG brands were generally stable, with Coca-Cola, Kellogg's, Heinz, Colgate and Nestle notching single figure growth, and Kleenex the only one in the top 100 to experience decline. Borchok expects steady rather than strong growth to continue through expansion, given most FMCG categories are quite mature.
After struggling over the past couple of years, automakers bounced back strongly off the back of global growth and developing markets, and the use of digital technology to enhance customer experience.
Luxury remained strong, however, troubled times could be ahead for premium apparel brands with Burberry – usually the bellwether for the industry's future, according to Borchok – issuing a profit warning in September. Prada grew strongly, however, breaking into the top 100 for the first time with a brand value of $4.2 billion.
Facebook, now that its financials are available following this year's public float, also entered the top 100 in position 69 with a value of $5.4 billion.

Millward Brown valued Apple at US$182.9 billion in May – only a 19% increase on the previous year's reading – and ranked Coca-Cola in sixth place with a value of $74.3 billion.
Interbrand's study examines three key aspects that contribute to a brand's value: financial performance of the branded products or service, the role the brand plays in influencing consumer choice and the strength the brand has to command a premium price, or secure earnings for the company.