MYOB rebrands on 25th birthday by launching its logo into the stratosphere
MYOB is celebrating its 25th year in market with a rebrand and a trip into space.
MYOB is refreshing its look to move its positioning toward that of a technology company in an attempt to distance itself from the image of a desktop database.
MYOB's transition over the past 25 years has seen the brand need to adjust as the business added cloud-based solutions for its users. A key marketing challenge for the brand has been to re-educate the market on this transformation.
The rebrand is heralded by a social video of the brand literally being launched into space. The video shows staff floating the old MYOB logo into the stratosphere, to reveal the new brand logo and tagline 'Simplify Success.' The logotype has changed from being stylised as MYOB to myob.
Here's the old logo, as photographed in the stratosphere.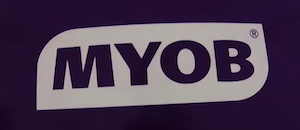 The refresh will also include a video series with MTV personality Kate Peck and the fourth edition of the 'Future of Business Report'
Marketing spoke with Natalie Feehan, executive GM of group marketing at MYOB about why the rebrand was needed, and the challenges it presented.
Marketing: What have been the key marketing challenges for the organisation? How did they come to be? And, how are you tackling them?
Natalie Feehan: The key marketing challenge for MYOB has been that our past success, and history, has created a household well-known brand. This has worked for and against us; as people think they know us.
And they do, they recognise MYOB – our brand awareness is 90%+, we lead awareness in our category, but they often think of MYOB as an accounting software, desktop company.
In addition to that, we have a clients who use old versions of our product and have used them for years, and think of this experience as 'MYOB'. It's safe to say that technology evolves pretty quickly, so too have our products and functionality.
Because people are aware of MYOB – they think they know what MYOB does. Despite us heavily promoting our cloud and online based products for the past three years, the market was just not listening. We need to get people's attention and demonstrate change in order to have people re-evaluate what we are all about.
M: Why did MYOB need to rebrand?
NF: As a fast moving tech company, MYOB has transformed rapidly over the past few years. You can see this through our product portfolio, when you look at our culture or walk around any MYOB office. It is a very progressive organisation.
But, we knew that our brand was lagging behind and many people outside our business still saw MYOB as a provider of desktop software. We wanted our brand to reflect our existing tech leadership and innovation and that's why we have rebranded in market.
We have now repositioned ourselves as an online tech company with an offering that stretches beyond pure accounting software to mobile payments and POS solutions that are perfect for start-ups to bigger businesses. MYOB has been the first to market with many innovations such as mobile payments. We want to ensure our brand identity and experience reflects the MYOB of today.
M: How will you measure success? Ie. what measures need to move to show the rebrand is working?
NF: We regularly monitor the health of our brand through various measures, be it NPS, brand health metrics, awareness and traditional funnel metrics through to sales, referrals and customer engagements.
Rebrands take time, but success will ultimately be measured via an increased awareness of our cloud-based, online products, consideration and preference for MYOB products.
M: What's the rationale for the new identity?
NF: To fundamentally change the way that people see us, we needed to do things differently, be different. We needed to make changes to our brand that were bold enough for people to recognise us, yet re-evaluate who we are and what we are about. Our identity reflects the new and next era of MYOB.
In terms of how we are positioned, we did extensive research which identified that one of our real strengths is that no one in the category is known nor perceived to understand the needs of business like MYOB: we are trusted, we are reliable, we are seen as an advisor. Research also showed us that ultimately what business owners want, is to be successful. They want help, tips, technology and advice to be successful – but also that success means different things to different people. For example for some people success is about financial growth, but for others its flexibility or following a passion.
This got us thinking about, and fed into our new positioning. That is how 'Simplify Success' evolved. We provide the technology that simplifies business and drives success.
Here's the launch video