Naked, M&C Saatchi, Mark Buckman honoured at 2012 ADMA Awards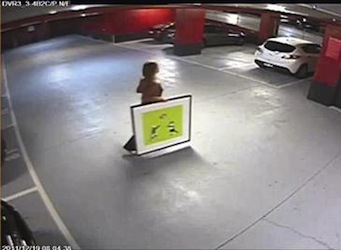 Last night's 2012 ADMA Awards honoured the year's best campaigns and individuals in the field of accountable advertising, seeing Naked Communications take home the Grand Prix for its 'Steal Banksy' campaign for Art Series Hotels.
The Association for Data-driven Marketing and Advertising bestowed awards for the 34th year on agencies and individuals judged best in accountable marketing, rewarding campaigns that combine innovative strategy and exceptional creativity to deliver outstanding results for clients.
Personal achievement is also recognised through the ADMA Awards for Excellence. Telstra CMO Mark Buckman was named Marketer of the Year who has reinvigorated the Telstra brand since taking on the role in March 2011, after doing the same for the Commonwealth Bank in his five-year role there. "Mark is outstanding and known for his game-changing strategies, for his progressive thinking outside the square and for the rigour and structure he puts into campaigns. He pushes the envelope in marketing," says ADMA CEO Jodie Sangster.
"He has worked for two of the biggest brands in this country and moved the needle in terms of what these brands stand for and how they approach consumers now."
The title of ADMA Young Marketer of the Year was bestowed upon Maura Tuohy, digital strategist at MercerBell, who was lauded for her innovative strategies to launch a diverse range of clients into social media.
The Lester Wunderman Effectiveness Award went to George Patterson Y&R Sydney for its 'Signed Finds' campaign for St Vincent de Paul Society, while the David Ogilvy Creative Award was taken home by M&C Saatchi/Mark for 'Build with Chrome' for Google Australia, which also took out three Gold Awards among the agency's haul of 17 gongs.
A total of only 15 Gold Awards were handed out this year, even though a record number of entries were received. Gold winners by category were:
Financial Products and Services
BMF – Investorville: the World's First Investor for Commonwealth Bank of Australia
Social Media
George Patterson Y&R Sydney – Signed Finds for St Vincent de Paul Society
Charity and Not for Profit 
George Patterson Y&R Sydney – Signed Finds for St Vincent de Paul Society
Creative Use of Technology
Lavender Communication Group –  In-Banner Pricing Power for Westpac
Dimensional Mail
Leo Burnett Melbourne – Box of Curiosities for Arts Centre Melbourne
Art Direction
M&C Saatchi/Mark. – Build with Chrome for Google Australia
Direct Response Digital
M&C Saatchi/Mark. – Build with Chrome for Google Australia
Publishing & Entertainment
M&C Saatchi/Mark. – Front Row for Google Australia & Sydney Opera House
Out of Home/Experimental
Naked Communications – Steal Bansky for Art Series Hotels
Travel & Hospitality/Transportation
Naked Communications – Steal Banksy for Art Series Hotels
Integrated Campaign
WhybinTBWA Group – Car Creation integrated campaign for NRMA Insurance
Insurance
WhybinTBWA Group – Car Creation integrated campaign for NRMA Insurance
Online Broadcast/Video
WhybinTBWA Group – Grazed on Greatness integrated campaign for MJ Bale
FMCG
Wunderman –  Share a Coke for Coca-Cola Australia
Flatmail
Wunderman – Portraits for Art Gallery Society NSW