Nestlé takes on Cadbury's 'joy' with the 'pure imagination' of Wonka chocolate range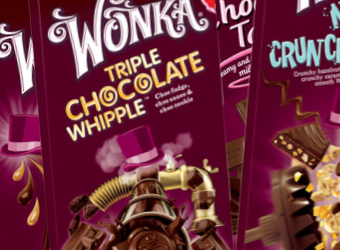 The battle for share of the fantastical-chocolate category is heating up after the launch of Nestlé's Wonka brand range of chocolate, which draws on a touch of 'pure imagination' to take on the 'joy' of Cadbury's successful 'Joyville' brand strategy of recent years which birthed the Marvellous Creations range.
The Wonka brand's initial offering launched in August this year and includes four variants: Triple Chocolate Whipple, Nutty Crunchilicious, Chocolate Tales and Caramel Hat Trick.
Lisa May, head of marketing for confectionery and snacks at Nestlé Australia, says, "Wonka is a beloved brand that the family can enjoy. There is so much nostalgia surrounding the brand and people have a strong connection from their childhoods."
Roald Dahl's Charlie and the Chocolate Factory was first published in 1964 and, in order to reignite the modern day interpretation of the weird and wonderful world of Wonka chocolate, Bluemarlin, the firm behind the strategic brand positioning and packaging of the new range, says its designers 'let their imaginations run wild.'
"The result is packaging that illustrates some of the top secret and wildly spectacular magic that takes place at the world's most famous chocolate factory. Wonka's signature burgundy holds the range together and creates strong colour blocking at shelf," the agency says in a statement.
Polly Williams, associate creative director at Bluemarlin, says the aim was to vividly communicate the "magic and wonderful strangeness" of that world while also creating a strong foundation for further explorations.
The Willy Wonka Candy Company was in established in 1971 on the launch of the first film adaptation. Nestlé SA acquired the company in 1988 and utilises materials licensed from the author's estate for the brand.