New 7-Eleven coffee campaign humbles hipster baristas, targets tradies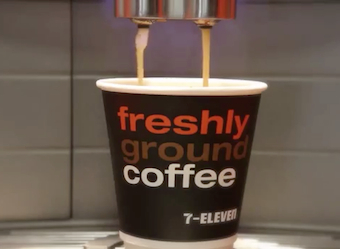 Led by brand and communications manager of 7-Eleven Australia, Bill Kosmopoulos, and CEO Warren Wilmot, 7-Eleven is pushing its $1 coffee in a new TV spot.
With the one-minute ad attempting to demonstrate the frustration caused by dealing with the stereotypical coffee snob barista, they are leveled at tradies and time-poor professionals.
Using shots of freshly grounds beans, speed for the customer and with the backing of Grinders coffee, the quality and reputation is seen as a decent alternative to many.
Targeting those who drink multiple coffees every day, and who have grown tired of spending time in cafe queues, the 7-Eleven commercials are lighthearted, yet absolute in their message.
'No Coffee Snobs at 7-Eleven'