Playing favourites: Aussies will spend $1.4b on Mum this year, triple that of Dad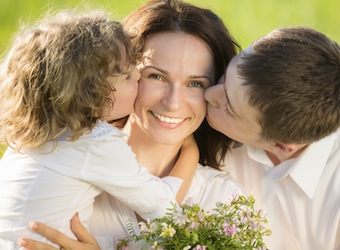 Fathers everywhere are being ripped off by their kids, with a new study showing Aussies will spend almost three times the amount on Mum for Mother's Day then they will on poor old dad.
The latest reseach conducted by IBISWorld predicts Australians will spend $1.4 billion spoiling our Mums this year, an increase of 2.7% from last year. The increased spend is being put down to a general increase in disposable income, low unemployment and positive consumer sentiment.
Australian general manager of IBISWorld, Karen Dobie says, "There are a number of factors driving higher spending on mum than dad, including the perception that there is less choice for dad in terms of gift type. Food, alcohol, sporting goods and tools are key Father's Day gift categories", Dobie says. "There is also a propensity to buy last-minute gifts for mum, resulting in consumers spending more than they may have planned, and the desire to spoil mum by showering her with the little luxuries".
The research always found that the average person aged 18 years and over will spend $77.21 on mum this year compared to $76.47 they spent last year. Traditional favourites like flowers and cosmetics will be high on the shopping list and Aussies will spend $298 million this year taking mum out for lunch, up from $286 million spent last year.
Online gift certificates and coupons are expected to remain the third-biggest Mother's Day spending category, but spending on this sector is actually expected to fall by 2.4% this year.
So when you're watching mum arrange the expensive bouquet you have brought her while she is unwrapping the expensive hand cream you have has specially imported from Brazil, spare a thought for your poor father who is probably wearing the $6 Big W socks you splashed to get him last year.