New Cadbury Coco premium dark chocolate targets the luxury market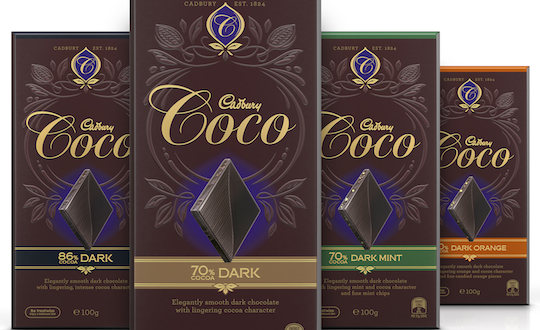 Cadbury is joining the recent trend towards premium dark chocolate by entering the space with a new brand, Cadbury Coco.
Cadbury Coco is "made with discerning chocolate lovers in mind" as thin, smooth and refined dark chocolate in flavours such as dark orange and dark mint. It is the first range of products of this kind under the Cadbury name, "building on from the success of its traditional milk chocolate products", the brand says.
"Cadbury Coco is a genuinely new offering for the category from Cadbury and we know it will capture the imagination of Australians who enjoy the finer things in life," says Kate Watson, senior brand manager for Cadbury Coco at Mondelez International.
"Cadbury Coco will take people on a journey of discovery, acting as a guide to new possibilities and experiences that ignite the senses and free their passionate spirits."
The brand will join premium chocolate blocks such as Green & Blacks and Lindt on the shelves of Coles, Woolworths, Big W, Target and independent stores from September.
Cadbury is launching a multi-million dollar marketing campaign focused on brand awareness and trial, including a TVC and a three-month sampling program to hit 1.5 million people across the country.
Focusing on the luxury market, Cadbury will hand out samples of the new product at Virgin Business Lounges and at opera performances of 'Anything Goes' at Sydney Opera House and Arts Centre Melbourne.
Outdoor, cinema, social media, online video and in-store activity will also complement the campaign.
Cadbury Coco will retail at $3.99 each for blocks and $12.99 each for gifting packages.
With creative by Saatchi and Saatchi Sydney and media by Carat, The TVC tells the story of an exclusive ball in an opulent mansion.
Recent branding activity by Cadbury has focused on its 'Joyville' positioning with the Marvellous Creations range, a series of products at the opposite end of the spectrum to these new dark, luxury, more 'adult' products.
RELATED: Insights behind the most significant changes to Cadbury Dairy Milk in 132 years »