Four senior industry leaders talk career advice for under-30s
Be passionate, be persistent, and be open to opportunities were three of the key pieces of career advice to under-30 marketing professionals at last week's ADMA 30Below Buzz in the Boardroom event.
Three senior marketers and one senior advertising creative took to the floor for a couple of hours to answer questions from the younger generation. ADMA 30Below provides various networking and professional development opportunities for young people throughout the year. Here are some of the highlights of last week's event.
The panel
Mark Brownfield, general manager marketing and retail sales, AGL Energy
Initially starting out his career without any intention to get into marketing, Brownfield considered options including joining the defence force and becoming an aeronautical engineer. Weighing up the pros and cons, he eventually settled on becoming a trainee distribution officer at the local energy company. Years later, he has found himself leading marketing efforts at AGL.
"I thought, 'there's an opportunity, I'll take a risk'. Be open to opportunities," he advises.
Brownfield's years of experience have also taught him that "things don't get things done, people get things done."
Darren O'Brien, president of cheese and grocery for Asia Pacific, Mondelez
After spending a number of years working in sales, O'Brien moved into marketing and strategy. He has more than 20 years' experience in senior management roles in leading FMCG companies, currently managing iconic brands such as Vegemite, Kraft Peanut Butter and Philadelphia Cream Cheese.
Focusing on creating a "winning culture" where ideas can flourish, he stresses the importance of surrounding himself with great people.
"I challenge and probe and rely on good people to identify ideas. Work out how you can be the most effective team-member you can be that brings out the best in others, as opposed to just function," he advises.
David Ponce de Leon, creative director, McCann
Ponce de Leon arrived in Australia 18 years ago "young and driven", and it was during university that the advertising world was revealed to him.
"I'd always loved advertising and creativity but I didn't know what an ad agency was, I didn't have a solid plan," he recalls.
After completing Award School he found himself in an ad agency, "completely enamoured with the ad agency world".
"I did know from the first day in an agency that I wanted to be a creative director. I had no doubt. I never wanted to do anything else or anything more than what I do now," he says.
Simon Strahan, marketing director, DrinkWise
Strahan started his commerce degree with "the sole aim of being a national marketing manager by the time I was 30", he recalls.
Starting out at the TAC set him up for the rest of his career, and by the age of 30, he did have that 'dream' role, "and it was fantastic".
After a few job changes along the way, Strahan is now focusing on promoting a healthy and safe drinking culture through his work at DrinkWise.
But looking back on his own path, Strahan advises: "you'd be crazy to try to plan your career and stick to it", ignoring opportunities.
"Take opportunities but don't try to stick to a career strategy because you might be tied to a path that might not be suitable."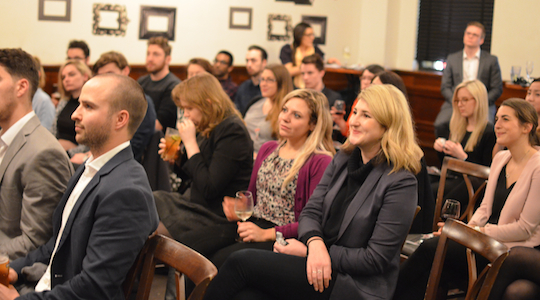 The discussion
The key to creative cut-through
Mark Brownfield: "Good creative, good product, good price".
Darren O'Brien: "You can't retrofit creative to the medium". Start with the right idea.
David Ponce de Leon: "Original, relevant, on-brand".
Simon Strahan: "Engagement is key. It's about all agencies working together".
Making the right career decisions
O'Brien: "Work for the right company." If you show talent and deliver results, the right organisation will recognise that and reward you.
Strahan: "Make sure you are open and prove yourself as much as you can." Recognise that marketing skillsets can be applied across industries. "This is a very incestuous industry. In 10 years' time you'll  be working with people you currently don't want to speak to."
Brownfield: "Culture eats strategy for breakfast. Find the company that has culture that helps you grow. In a company with a great culture they'll support and back you but you've got to be flexible as well."
The benefits of cross-functional experience
O'Brien: "The brand lives in customers' homes. The more you can be exposed to different ways the brand and product lives, the more you can bring to that and the more of the organisation you'll understand."
Brownfield: "You can't be bored. Try and love what you do. I believe any CEO should have spent time in sales or marketing; salespeople understand the customer." (Brownfield spent time doing door-to-door sales – a tough challenge).
What they look for in young talent
O'Brien: "The people I'll back are those who will willingly take on any challenge, with energy, commitment and an attitude of, 'why not?' – those people stand out, and generally, they deliver results."
Brownfield: "I look for signs that I can trust people and that they're authentic. And people who are prepared to fail – not constantly, of course."
Deciding how to spend their companies' money wisely
O'Brien: "If you ask yourself, 'if it was your money, would you do it?' then you can't go wrong. You need to justify it in your own mind."
Brownfield: "I constantly listen to other people, the difference is I have the responsibility to make the decision. There can only ever be one decision-maker. You've got to have courage of conviction."
Strahan: "Can you actually sell it and believe it? The board will see through it unless you believe in it 100%. If you have confidence in it, even if you fail, people will respect you for it."
What inspires them?
Ponce de Leon: "The things that inspired me when I was younger are different to the things that inspire me now. I basically find human beings really inspiring."
Strahan: "Passion." You have to ask yourself: "Am I as passionate as I could possibly be about this business? If not, find out what does really float your boat."
Brownfield: "I'm not inspired by marketing, I'm inspired by the people I work with."
How can graduates with limited experience stand out when applying for jobs?
Strahan: "If you've got the passion you can differentiate yourself." Research what the company did last quarter, what's happening in the marketplace, the interests of the people who are going to interview you. "This is a communications industry. About 60% of jobs never get advertised, so make sure you activate your networks. Call your contacts once every six months, make sure you're top of mind."
Ponce de Leon: "People who are persistent. Someone who does cool stuff outside of work" (such as a creative pursuit). "Make sure you find it, the thing that comes naturally to you. It needs to be genuine. It could be data – if that's your passion, you're going to be employed for 100 years, man."
Brownfield: A large proportion of AGL's marketing team started out in the call centre. "If you're studying marketing, don't think your first job is going to be as a marketing manager. Get in and show what you can do."