New digital strategy for Brisbane Festival sees ticket sales soar
Campaign: Brisbane Festival website and app revamp
Client: Brisbane Festival
Agency: Bigfish
Background
Lasting three weeks in September, Brisbane Festival is geographically split with shows spread across the city and suburbs. A mix of music, theatre, dance, circus, comedy, opera and more, the Festival also includes other brands and programs, such as cabaret in The Courier-Mail Spiegeltent, or independent works in Under the Radar.
Brisbane Festival had had the same website since 2009, and while it was re-skinned every year with new Festival colours and amended with the latest events, the back end was virtually unchanged.
Brisbane Festival appointed Brisbane-based digital agency Bigfish to help with its digital strategy, including building a new website and a new app to help increase ticket sales.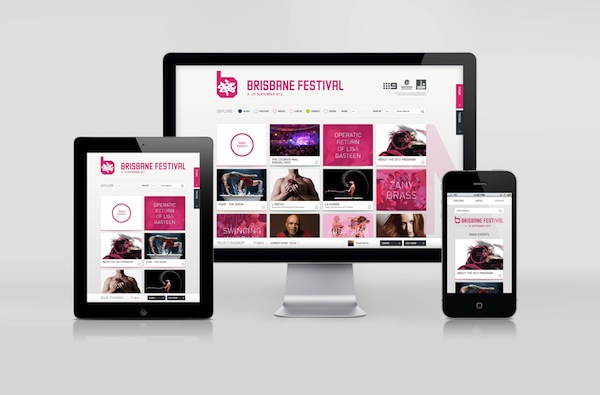 Objectives
Representing a festival can be a tricky business, it is a challenge to create a brand and online presence that incorporates the diversity of an arts festival and successfully brings together hundreds of events, genres and locations. The website needed to efficiently represent the fun and excitement of Brisbane Festival, yet showcase its diversity appropriately.
Brisbane Festival is a mixture of several brands and Bigfish had to think of a way to unite these brands, to help represent what Brisbane Festival stands for.
In the past, people were encouraged to purchase tickets to a show or an artist, but the website did not encourage multiple attendance.
Brisbane Festival also required a new app for 2012 for iPhone and Android. While the 2011 app was only available on iPhone and acted as a mobile site, the new app had to provide users with a new experience, giving them a reason to download it.
Strategy
Rather than taking a standard arts industry approach, Bigfish decided to make Brisbane Festival feel just like Big Day Out or Splendour in the Grass, where people buy tickets for the whole Festival experience sometimes more than the specific artists. The digital agency decided to build the Brisbane Festival website with this concept in mind: it is effectively a poster listing all the acts that are part of this year's festival that users can share and chat about on social media.
To build this festival poster, Bigfish understood that while big names like Julia Stone or Rufus Wainwright sold tickets on their own, the festival was made of a multitude of lesser-known acts that also deserve their place in the limelight. It was therefore important for them to sell show tickets based on the feeling of the show rather than the name itself.
As for the app, Bigfish did not want it to be a redundant copy of the website, so the company introduced new features such as QR codes and a check in facility to enhance customer experience.
Execution
To build the festival feel, Bigfish thought of a way to showcase well-known and lesser-known acts all at once, introducing a lot of imagery and video. Since the names of some artists and shows do not necessarily mean a lot to the audience, Bigfish positioned catchy key words over transparent images to help create excitement about each of the acts.
The agency also embedded easily accessible mini-video segments within the website layout to showcase the performances.
Another big feature was bringing diversity to the home page, allowing users to customise it based on what they enjoyed. Bigfish introduced a way to rearrange the home page by type of show such as comedy, dance, or cabaret in just a click.
To appeal to a wider market, Bigfish also ensured the website was built with a responsive design, detecting the width of the screen display to adapt its layout for a computer, phone or tablet.
Itinerary builder
While most festivals usually offer a planner that lets users add events to their diary, Bigfish went further. To help make the event come together as a whole, the agency created an itinerary builder, for people to share their festival experience on social media.
Much like a fashion website, users add items to a wish list and the itinerary builder lets users pick the shows they would like to see, creating a specific user page at, for example, BrisbaneFestival.com/JoeBloggs that can easily be shared on Facebook for friends to take inspiration and buy a ticket.
To remove the ultimate barrier, Bigfish also worked with qtix, who built a smart ticketing platform allowing patrons to buy tickets for any number of shows at any number of venues at once. Bigfish integrated this platform onto the website, thus making patrons feel they are buying into Brisbane Festival rather than a single act. This was also an opportunity for the festival to offer customers a discount for multiple purchases.
The thinking behind the CMS
Rather than the designers having to fit their ideas to what is technically possible within the CMS, Bigfish designed the whole website, and then built its own CMS behind it for a perfect fit. The minimal training required for the Brisbane Festival team to be able to use the CMS meant the website was operational as soon as it was delivered.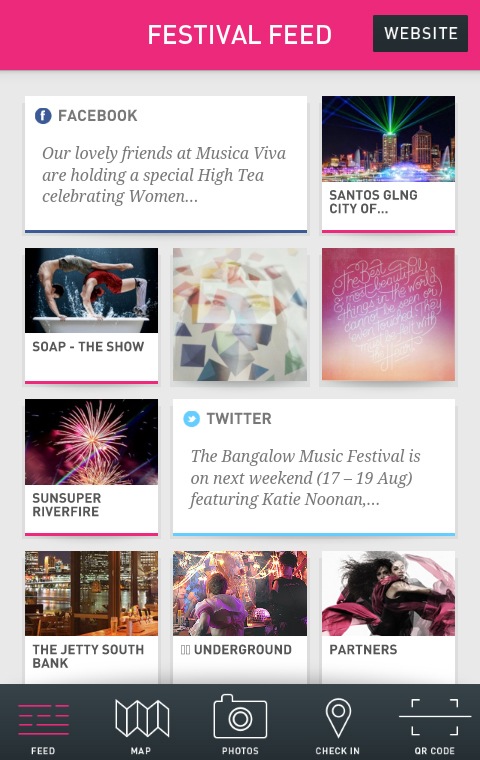 The app
The Brisbane Festival app is broken down in five functions, which all integrate with social media platforms. A photo tool lets users take photos of themselves and their festival experience and apply a filter that creates a multiple exposure photo in the style of this year's festival branding. Users can then share the image on the app gallery or via Instagram, Facebook and Twitter.
Bigfish also integrated a QR code reader in the app to allow users to scan codes positioned in the city to get a sneak peek of what is happening at specific locations during the festival.
Another feature is the festival feed, which works much like a Facebook timeline. Auto-generated, it shows live posts from the Brisbane Festival Facebook and Twitter pages, photos from the gallery, displays Facebook friends' check ins at festival events and events taking place on the day. It also recommends matching hotels and restaurants to users.
A dynamic map indicates all the festival locations across the city, as well as partner hotels and restaurants. It lets users enter their own location to find out what is nearby, and lets them search the map by date, to see what is happening where on what day. Push notifications will also notify users located near a venue when a certain performance might start.
The check in function gives users the opportunity to directly check in to Brisbane Festival venues and events and share it on Facebook and Twitter to connect with their friends.
The app also provides direct links to the Brisbane Festival mobile site for details on all the events and how to buy tickets, videos and access to the online itinerary builder at the touch of a finger.
Results
Implemented in three months and delivered ahead of schedule, the Brisbane Festival website has helped deliver higher than expected ticket sales for the 2012 season.
Website:
visits increased by nearly 50% to more than 583,000 visits, and unique visitors increased by 42%,
each visit lasted close to three minutes, with page views increasing to more than a million and a half,
the app broke all records, with more than 11,000 downloads, a 40% increase on last year, and
Facebook likes increased 170% and Twitter followers by 64%.
Ticket sales:
the website's overhaul resulted in a 75% increase in ticket pre-sales when the program launched and nearly 15% more tickets were sold overall compared to last year,
a number of performances sold out a mere two weeks after the website launched, way ahead of last year's figures,
overall, more than 90 individual performances sold out, with ticket sales exceeding $1.25 million (compared to just over a million last year), and
more than 30,000 itineraries have been created via the itinerary builder, with 2666 tickets purchased as part of the multi-tix offer.
Did you know: you can see all of Marketing's highly-transparent case studies first and with stunning high-resolution glossy photography by becoming a subscriber? It's only AU$45 for a whole year, delivered straight to your door. Find out more »