Adidas delivers an UltraBoost in the fight against marine pollution
Adidas has launched a global campaign for its latest UltraBoost running shoe and Run for the Oceans initiative.
The sportswear brand's FW18 UltraBoost Parley is assembled using Parley Ocean Plastic, a textile made from recycled plastic retrieved from coastal communities and beaches. Each pair manufactured prevents 11 plastic bottles from entering the world's oceans.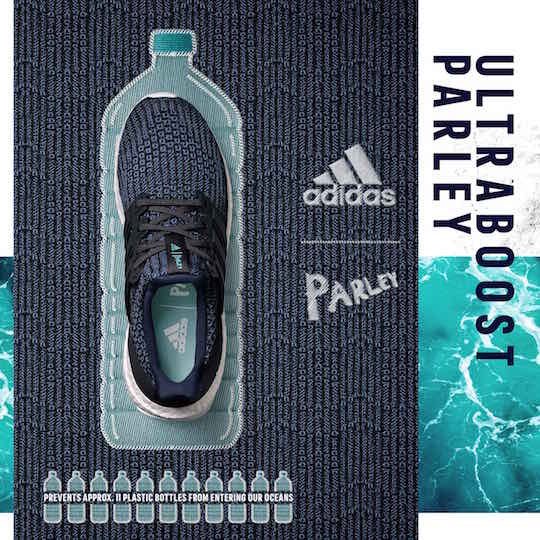 Developed by creative partner TBWA/Neboko, the initiative also includes Run for the Oceans, an activation in which communities are called upon to join the GPS running app Runtastic. For every kilometre completed by runners, Adidas will donate $1 to the Parley Ocean Plastic Program.
Adidas has been working closely with Parley for the Oceans, an organisation that has been raising awareness about the fragile state of the world's oceans since 2015. Recently, the organisation has teamed up with Chris Hemsworth and Corona for an installation in Melbourne's Federation Square featuring an entire wave made of plastic bottles.
TBWA/Neboko teamed up with Psyop and Golden Wolf to create a stop-motion animation ad for the UltraBoost Parley shoes. The Parley Ocean Plastic upper knit is used as a canvas in the video.
The campaign, which has been running elsewhere in the world now hits Australia, rolling out through Adidas channels in cinemas, online video, social, in-store and print.
Eight million tons of plastic ends up in the ocean every year, and many organisations are taking to supporting awareness campaigns and initiatives, including Corona, National Geographic and Coca-Cola.
Last year, Adidas reportedly sold one million pairs of the previous model of the UltraBoost ocean plastic shoes. In an interview with Marketing, Afdhel Aziz, author and chief purpose officer at Conspiracy of Love said:
"Adidas sold a million pairs of those shoes last year and has gone on record saying it will sell five million in 2018. Now, the average retail price of these shoes is $220, which means Adidas is going to make more than a billion dollars of revenue in creating a product that solves a social issue.
"Doing good isn't some sort of ancillary thing that's happening over on the side, it becomes part and parcel of what the company stands for. To me, that's the real exciting new frontier."
Progress on the Run for the Oceans campaign can be followed here »