Brands abandon Sky News as controversial interview sparks internet outrage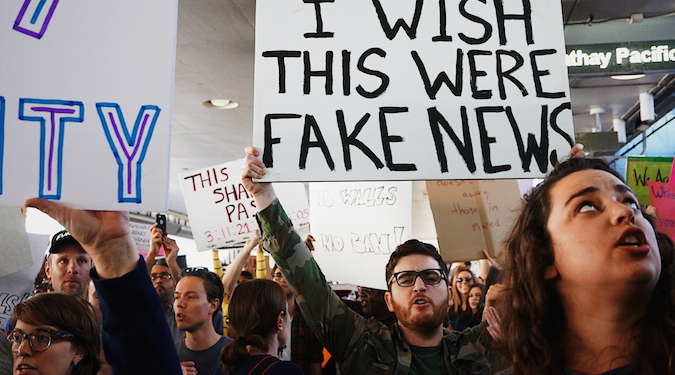 Huggies, Specsavers and American Express have dropped deals with Sky News Australia after the channel aired an interview with infamous United Patriots Front founder and convicted criminal Blair Cottrell.
Audiences were shocked by comments made by Cottrell during an interview with host Adam Giles , "What we lack in this country is national pride… that is necessary to galvanise the minds of the masses and to protect the people of this country against foreign ideologies.
"If we can rebuild or reclaim our traditional identity as Australians then we may not need a Donald Trump, we may be able to fix the situation ourselves."
Cottrell's actions have been highlighted in the media before; in 2015 Cottrell protested the building of a mosque in Bendigo by staging a fake beheading while chanting "Allahu Akbar." A video of the stunt was uploaded to the United Patriots Front's Facebook page and defended as an act of free speech.
Blair Cottrell is also the first Australian under common law to be charged with 'hate speech' under Victoria's Racial and Religious Tolerance Act.
Virgin Australia was the first to feel pressure from customers, the program was aired in Virgin lounges around Australia.
Hi Benjamin, thanks for reaching out. I can see that you're in the process of contacting our corporate communications team and please be assured that the relevant departments will be contacted for internal review. Thank you.

— Virgin Australia (@VirginAustralia) August 5, 2018
Soon after, other brands associated with Sky News began to receive threats of boycotting, including a directive from Bendigo East MP Jacinta Allan for Metro to remove Sky New's broadcasting in all CBD stations.
@qantas I hate flying Virgin and am a Qantas Club member but I will make no further bookings on Qantas until you stop advertising on Sky News and stop showing it in your lounges

— Adrian Booth (@adrianbooth01) August 7, 2018
Hey @HungryJacksAU,do you think it's appropriate to broadcast the views of Nazis and misogynists to your (often very young) customers? #changethechannel #auspol@slpng_giants_oz @slpng_giants #skynazis https://t.co/4hfgZWIpEd

— Round Earth Shill (@TheStooge2) August 8, 2018
Hey @JaguarAUS. I've got another word you can add to your slogan. When your ad $$ fund Sky News, Oz HQ of racism, misogyny & a neo-Nazi who likes to give women 'a crack around the ears' to keep her faithful, you have to call yourself a disgrace. #adshame #auspol @slpng_giants_oz pic.twitter.com/CG51n1eMGm

— What You See Is What You Get (@WYS1WYG) August 8, 2018
Following the backlash, Sky News Australia issues something approximating an apology, announcing they had removed the interview from distribution.
It was wrong to have Blair Cottrell on Sky News Australia. His views do not reflect ours. The interview has been removed from repeat timeslots and online platforms.
– Greg Byrnes, News Director

— Sky News Australia (@SkyNewsAust) August 5, 2018
Reacting to the outcry, Cottrell posted, "I am so hated by the Left and their corporate masters that if you're a presenter for mainstream media in Australia, you'll literally lose your job if you interview me."
Update: This article previously stated that Virgin Australia ended its broadcast deal with Sky News Australia following online pressure. Marketing has since become aware that although the program did air in Virgin lounges, Virgin Australia did not have a 'broadcast deal' with Sky News Australia.
Image credit: Kayla Velasquez