"We were wrong" – Carlton Dry ditches ring pull caps as dissatisfaction bubbles over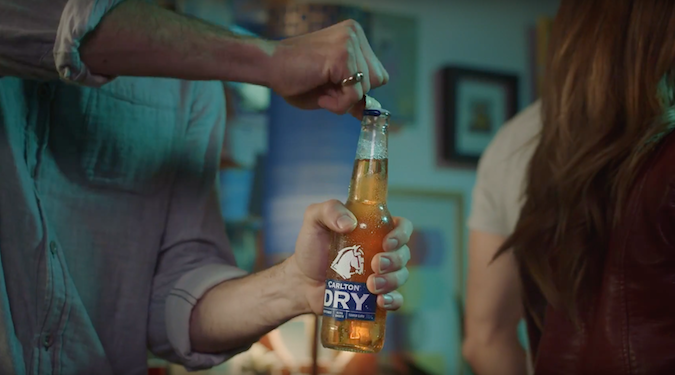 Carlton United Breweries is reversing its painfully-received decision to repackage Carlton Dry products with pull rings instead of twist top caps.
Last October, Carlton Dry fans were informed that the beer was swapping twist top bottle caps for 'ring pulls' in a brand move analogous only to a missed high five. Carlton Dry stubbies would also decrease in volume from 355 to 330mL to maintain low prices.
Lovers of the beer brand took to social media in revolt, complaining that the new ring pulls were unnecessary, small and difficult to open, sometimes leaving customers with cuts on their fingers.
@carlton_dry your ring pull is crap #BringBackTheTwistTop pic.twitter.com/8Nrwb0u666

— Adam Reid (@adam_c_reid) December 30, 2018
@carlton_dry 330ml and a ring pull? Thanks, now I can never take Drys to a BBQ again. I would be mocked for having a girls beer. Bottles need to be 375 and a twist top like the rest of Australia. You treat us like idiots. I'm not drinking Drys again #bantheringpull

— Ron adema (@Ron_Adema) November 13, 2018
@carlton_dry ditch the ring pull peeps. They're useless. You've already taken away 20ml from the stubbies, now we spill another 50 opening those stupid things. Not to mention the cuts and abrasions. Worst idea ever.

— Love those shoes (@DWybar2) December 24, 2018
This week, Carlton United Breweries issued an apology to fans of the beer in a statement:
"We were wrong on ring pulls. We thought this would make Australia's most uncomplicated beer even simpler. We were wrong. We've listened to our consumers and it's clear they prefer opening their beers the more traditional way. So we're going back to twist tops. It wasn't broken and we shouldn't have tried to fix it."
Twist top Carlton Dry bottles will return to market in March.
CUB's statement also mentions the decrease in volume to 330mL bottles, saying the decision came down to avoiding an increase in price. To keep prices low on Carlton Dry stubbies, CUB says it also won't be passing on any increases in production cost over the next 12 months or the Government's February beer tax to the consumer.
"We are sorry to our loyal Carlton Dry drinkers. Of all the brands to overcomplicate things, it should never have been us. We hope this is a step towards consumers enjoying opening our beer again."
The pull cap arrived in October. A spot by Special Group introduced the new packaging and 'uncomplicated' brand platform. It also courted more female consumers, positioning Carlton Dry as a unisex alternative.
In yesterday's episode of upset internet people: