Ball! The Herald Sun kicks off the AFL season with gamified advertising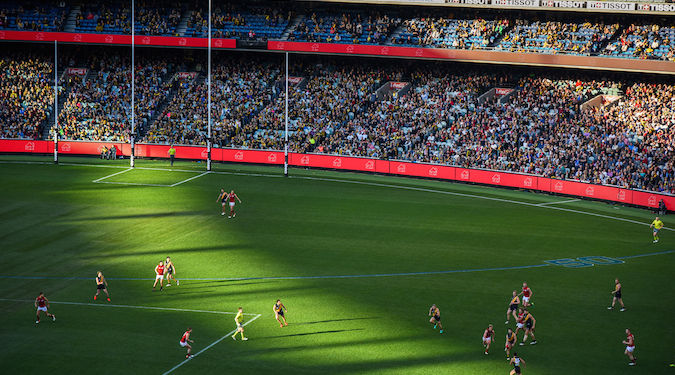 The Herald Sun is launching its in-game AFL fan-competition 'Ball Call' to kick-off the season at tonight's MCG clash between the Tigers and Blues.
The Herald Sun will unveil its first in-game fan-competition lottery tonight in the first game of the AFL season between the Richmond Tigers and Carlton Blues. The competition invites fans to enter into a weekly lottery via the Herald Sun's website, however the entry form only becomes available upon the umpire's first official call of 'holding the ball'.
"We set out to develop a never-before-seen consumer promotion… because we know that adding a level of gamification to brand activations increases consumers' propensity to engage with the brand four-fold," says News Corp Australia's Victorian general manager, consumer sales and marketing, Kammeron George.
The Herald Sun says Ball Call has the potential to reach 38 million footy fans this season, being promoted through MCG LED signage, owned media, social media, radio and television. "This fan engagement activity will take it to the next level" says George.
According to the Herald Sun, a 'holding the ball' call is normally made within the first 11 minutes of any match, and typically elicits the loudest reaction from fans. The Herald Sun will seek to take advantage of this famously controversial ruling, and turn it into an event directing them to the Herald Sun website.
Ball Call will be active for the first 'holding the ball' ruling of every match played at the MCG this season. Fans may enter into the competition once per match to be in the running for a weekly prize, and a grand prize at the end of the season; Herald Sun subscribers will be entitled to two tickets per entry.
The Ball Call prize for the first week of the season will be five framed 'Team 2018 Captain Cards' sets and 15 Sherrin footballs.
Image copyright: zephyr18 / 123RF Stock Photo