Samsung partners with exclusive clothing brand Supreme… sort of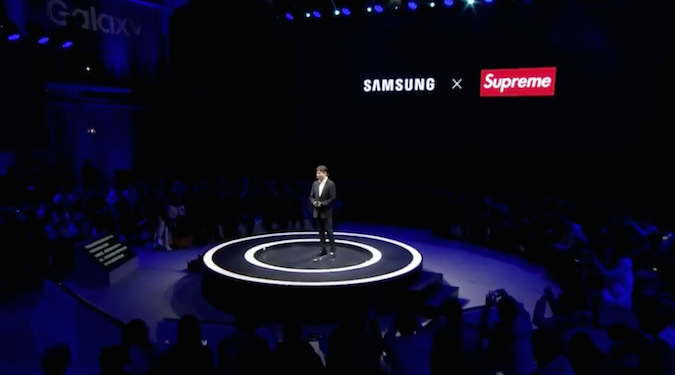 Samsung China has announced a new partnership with an Italian counterfeit version of the NYC clothing brand Supreme.
Fans of the hyper-exclusive clothing brand revolted yesterday as two of Supreme's CEOs were introduced to the crowd of a Samsung product launch in China.
The problem? This particular Supreme is technically a legal fake.
The real Supreme is a skateboarding and streetwear brand launched in New York City, gaining its notoriety through extremely exclusive product drops and partnerships with other high-profile apparel brands.
The Supreme that Samsung is partnering with, however, is in fact an Italian duplicate of the cult fashion company. In August of this year, Supreme lost an intellectual property case in Italy to 'Supreme Italia', a company owned by International Brand Firm selling imitation clothing with Supreme's branding.
The Italian court decided, "following the lawfulness regulation, for an action to be a crime it is not sufficient the confusion between the two brands, nor the actual external similarity of the product."
Supreme Italia now plans to launch a series of retail stores in China next year, with Samsung being introduced as its first big-name sponsor.
In a comment to Hypebeast, a Supreme (the real one) spokesperson said, "Supreme is not working with Samsung.
"These claims are blatantly false and propagated by a counterfeit organisation."
Following the event – and a flurry of internet outrage – digital marketing manager for Samsung China Leo Lau clarified in a (now deleted) Weibo post that the Supreme with which Samsung is collaborating was not the genuine Supreme brand.
"We are collaborating with Supreme Italia, not Supreme NYC," writes Lau.
"Supreme NYC has no sales and marketing authorisation in China, but Supreme Italia has obtained product sales and market authorisations in the Asia Pacific region (except Japan)."
Following another round of backlash, Samsung has announced its reconsideration of the contentious partnership, "Recently, Samsung Electronics announced we will collaborate with Supreme Italia in China at the launch event of Galaxy A8s. We are currently re-evaluating this cooperation, and we deeply regret the inconvenience caused."
Recently Samsung brought Supreme on stage to announce a partnership and a new flagship store in China

The only problem: It wasn't Supreme. Supreme isn't opening a store in China. Or partnering with Samsung

These people were from a fake Supreme. Duped https://t.co/9dGXa5urO6 pic.twitter.com/pBhHuQby8d

— Marques Brownlee (@MKBHD) December 10, 2018
This is why Samsung are still taking L's, this isn't even the real Supreme you're working with @Samsung looool pic.twitter.com/5KaRuSJHp4

— George (@CuriousGFP) December 10, 2018
Wow.. I'm embarrassed to actually have an S9 after reading that @Samsung are actually partnering up with a fake Italian Supreme.. Imagine openly supporting counterfeit products. Pixel 3 here I come pic.twitter.com/2wara55V31

— Carlos (@CarlossRicoo) December 10, 2018

Further Reading: