News to cull 14 divisions in dramatic restructure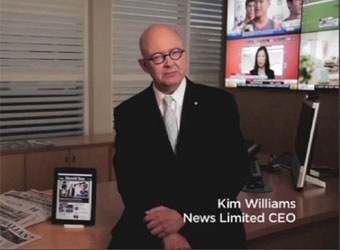 The chief executive of News Australia, Kim Williams, has announced sweeping changes to the company, including reducing the number of divisions on the east coast from 19 to five.
Williams confirmed that the changes would mean redundancies but would not comment on how many. The company will restructure its national, Queensland, NSW and Victorian operations and adopt a 'one city, one newsroom' strategy, and cut the number of staff required to generate editorial.
Williams also announced acquisition plans to give News "renewed growth and direction" in the new media landscape, with the purchase of Australian Independent Business Media (AIBM), the publisher of Business Spectator and the Eureka Report and a bid to increase the company's stake in Foxtel and Fox Sports underway.
The changes are "necessary actions to build our business and confront the challenges before us in this amazing time of change and opportunity," Williams tells staff in a video address.
"By putting customers and innovation at the heart of what we do and by investing in our future we will continue the transformation of News into a truly multi-platform powerhouse.
"Our commitment to making bold investments to grow the company is demonstrated by the recently announced $60 million investment in a new publishing platform, Methode, and today's announcement of the acquisition of AIBM, Australia's number one pure online business and investment publisher."
Williams also announced a new strategy for improved digital product development and growth. News will remove the divide between digital and traditional teams, integrating News Digital Media into its operations and creating a new product innovation team, to drive product development across the entire business.
Williams says people and technology must be integrated across the businesses' editorial product development and execution to be truly successful. "We will no longer run News Digital Media as a separate operating division, but instead embed the knowledge, energy, resources and talent of our digital experts into every part of News.
Once the Victorian, NSW and Queensland structures are settled, News will look to simplify operations in other areas of the country. The Australian and NewsLifeMedia (News Ltd's magazine division) will continue to operate as national divisions.
"The new operating model is designed to empower staff to work smarter and faster. We will upskill our central functions and eliminate wasteful duplication," Williams adds.
"The new model addresses areas where we have skill shortages and are duplicating functions. We will hire new people where required, but regrettably some roles will become redundant.
"At this stage we cannot say how many roles will be made redundant as full details will be resolved with the implementation. Although there will be retrenchments, many roles will be retired through natural attrition."
News will make a play to own the business and investment reader, with its newly acquired assets in the Business Spectator family (which became Australia's number one pure online business and investment publisher just a few of weeks ago), its business sections from The Australian and sister publications The Wall Street Journal.
In closing Williams says, "Print is not dead and has a strong future in which we, for one, have confidence as we build all our future consumer platforms – print, online, tablet, mobile, broadcast and social. The future might be tough but it is exciting and liberating in terms of there never having been more ways to connect with consumers to meet their needs. We welcome the challenge enthusiastically."