Not so flimsy after all – five brands changing the way we use paper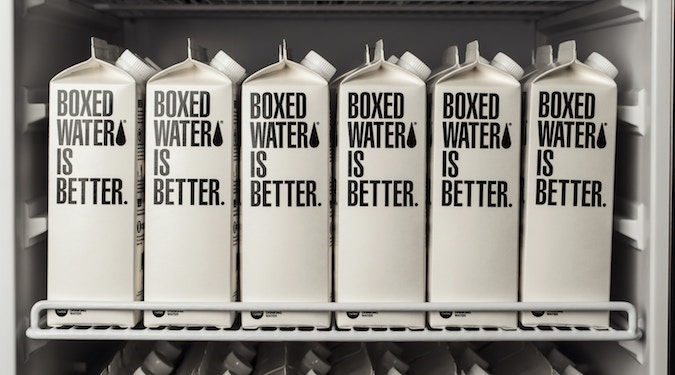 From a Finnish ball gown to a pair of American trainers, election signage and burger wrappers, we explore five alternate uses for the stuff that goes into paper and how marketers are pushing the medium for increased customer experience. By Sam Upton.
This article was sponsored by The Real Media Collective to let readers know about its Customer Insight Seminars across Melbourne, Sydney and Brisbane in June. For more information visit The Real Media Collective »
There's a common misconception that wood fibre is solely used to create paper and paper products. But this versatile material has plenty of other uses and can turn up in the most unlikely of places – pharmaceuticals, cellophane, sponges, sausage casings, grated cheese and even ice cream.
But with many traditional products being scrutinised for their environmental impact, manufacturers and retailers are increasingly turning towards wood-based materials to provide a more sustainable alternative. Here are just five solutions brands are exploring around the world.
Eat everything on your plate
To address fast food packaging waste, New Zealand burger chain Better Burger teamed up with Innocent Packaging to create plant-based and compostable packaging for its burgers. The wafer paper packaging made from potato starch and water encouraged customers to eat everything on their plate, rubbish included. They even went the distance and used edible ink to brand the packaging, adding its logo and a fun design.
"When we started Better Burger, it felt like all I could see was fast food rubbish dumped on the side of the road, on footpaths and in parks. I decided then and there that we weren't going to contribute to the waste problem – we could do better", says Rod Ballenden, general manager at Better Burger.
"I'd say we are the only fast food chain in all of Australasia with fully plant-based, compostable packaging so none of our front-of-house waste is sitting in landfill for any great period of time."
Sneaker peak
Based in San Francisco, the international shoe company Allbirds has added wood fibre to the range of materials it uses to produce its hugely popular sneakers. Titled 'The Tree Collection', the shoes are made using Tencel Lyocell, a fibre made from the cellulose found in the wood pulp from responsibly grown and sustainably harvested eucalyptus trees.
"Our tree fibre is sourced from South African farms that minimise fertiliser and rely on rainfall, not irrigation," the company says. "Compared to traditional materials like cotton, it uses 95% less water and cuts our carbon footprint in half."
Silver linings
The issue of bioplastics has had a lot of focus recently, particularly in the area of recycling food and beverage packaging, but Finnish paper company UPM has developed a renewable wood-based bioplastic that can be used in paperboard cartons, making them much more environmentally friendly. This year, diary company Arla will be the first business to use these new cartons for its range of milk, yoghurt and cooking products.
"When we have a liquid product such as milk, a thin plastic film is needed inside the carton for reasons of product safety and shelf life," explains Sanna Heikfolk, Arla's brand and category manager.
"In our new packaging, the source of plastic is now even more responsible because it is made of wood-based raw material."
More than 40 million Arla cartons will use this new sustainable bioplastic, which makes the new cartons 100% wood-based, compared to the 85% of a traditional carton.
Cut your cloth
The area of wood-based textiles is rapidly gaining attention across Europe, with new fibres being developed at a number of paper and pulp companies and top fashion and retail brands getting involved. The latest partnership is 'TreeToTextile', a joint venture between H&M, Ikea and Stora Enso that aims to develop new sustainable textile fibres from wood pulp.
The 'TreeToTextile' process takes raw forest material and regenerates the cellulose gained from it into a textile. The production process uses less energy, chemicals and water than conventional textile processes. As a comparison, it takes almost 12,000 litres of water to produce one kilogram of cotton, but for the same amount of water you can make 26 kilograms of wood-based textile.
"Together with existing consumer and textile knowledge," says Lena Julle, category area manager textiles at Ikea, "this brings us one step closer to our goal of introducing a new sustainable low-cost fibre for the people."
Outdoor signage
Whereas plastic boards have been used in the past for election and outdoor signage, Hume candidate, Huw Kingston has launched his recyclable board.
The waterproof outdoor board, Oppboga, is named after the Swedish town where it is manufactured and made from paper and a biodegradable waterproofing agent. Plastic signage boards cannot be recycled in the household council bins –thus they tend to go straight to landfill.
Mr Kingston has spent two decades campaigning against single-use plastics and he said his conscience would not allow him to put his face up on a plastic board.
"The Oppbogas will last as long as the federal election campaign, then they can go straight into the recycling bin," he said.
Sam Upton is a freelance writer and content creator
The Real Media Collective is hosting Customer Insight Seminars across Melbourne, Sydney and Brisbane in June. For more information visit The Real Media Collective »
Image credit:Boxed Water Is Better