Oak's Snapchat campaign to 'kill hungrythirsty dead'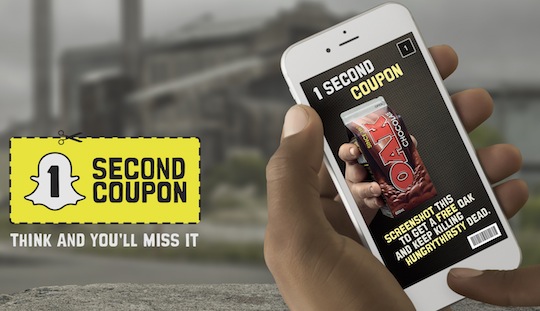 Flavoured milk brand Oak has launched what it calls the 'world's quickest coupon' campaign, a one second coupon available on Snapchat.
Parmalat and creative agency The Monkeys will continue to use the brand's 'kill hungrythirsty dead' angle and will offer Oak's Snapchat followers a one-second chance each day to take a screenshot of the coupon.
The coupon, if captured, will entitle the user to a free Oak drink.
Fans who are too slow to react will get a follow up Snap instructing them to rid themselves of hungrythirsty before the next day's chance.
The social media platform's screenshot notifications will enable the agency to validate all coupons and prevent cheating.
"Oak is incredibly popular among the Snapchat generation, so we want to do something special for the launch of their Snapchat account," says The Monkeys interactive creative director Morten Halvorsen.
"Not only does it attract people to follow Oak on Snapchat, but it also dramatises the product benefit by simply using the applications infamous functionality," he added.
Oak's 'kill hungrythirsty dead' slogan began in 2010, with popular TV commercials featuring Australian actor David Field warning audiences that 'hungrythirsty' is the state of weak indecision when people are "neither hungry nor thirsty, but a bit of both," familiarising the brand and slogan with Australians.
The Snapchat social media promotion is now live, and the one second coupon chance is intended to test followers – ones who make it in time have proven they are not hungrythirsty, 'and get a free Oak to keep killing hungrythirsty dead' whereas those who miss out have clearly fallen victim to the state.
Since launching as 2011, Snapchat has been one of the fastest growing social media platforms. In January this year, Fortune valued the service – which is seen as a rival to Facebook in terms of volume of users and daily video shares – at $16 Billion USD.