Online sales gallop towards Christmas after mid-year lull
The rate of growth in online sales strengthened over the last six months, to log 26% year-on-year growth in October, according to NAB's Online Retail Sales Index.
Australians spent $12.3 billion online for the year to October, which accounted for around 5.6% of total retail spend, showing the vast majority of shopping is still conducted offline.
However, the growth rate of online retail spend once again far outweighed that recorded by traditional retail which grew a paltry 2.2% in September (3.6% when food retailing is included), according to the most recent ABS retail trade figures.
NAB's most recent figures represent somewhat of a rebound for online sales, following a slowdown in the early part of 2012. The rebound was driven by domestic players, group chief economist for NAB, Alan Oyster says.
"Domestic retailers have been the dominant players in the online space, accounting for almost three-quarters of sales in the year to October."
Domestic sales increased by 28% year on year for the month, while international sales increased by 22% year on year.
Around half of all online purchases were made through auction, department store, fashion, cosmetic or variety store retailers. 'Recreation, toys, games, hobbies, music, movies and books' was the second largest of the study's broad categories, accounting for 21% of sales. 'Home, furniture, appliances and electronics' followed with 19% of sales while 'groceries, liquor and specialised food' brought up the rear with 13% of sales.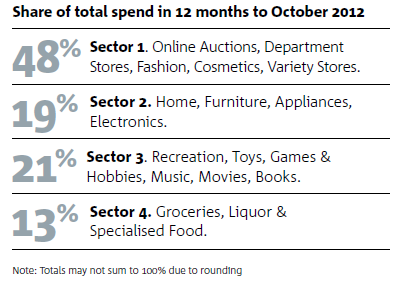 In October, sales growth for food and beverages and the department store and fashion category jumped, growth in toys and media slowed, and the household goods and electronics declined.
Director at research firm Quantium, Tony Davis, predicts retailers will innovate as the online landscapes changes. One sector which continues to go through shifts is the group buying market. "The group buying sector of online continues to see rapid decline, but we are bound to see other new online formats emerge," Davis says.
Quantium pieces together the online retail figures by extrapolating the spend of NAB credit card holders to the overall population.
Those aged in their 30s and 40s remain the key demographic for online spending, with the under 30s age group lagging behind on a per capita basis.