A cowboy, a boxer and an alien walk into a bar – Heineken's new ad champions diversity and wise decisions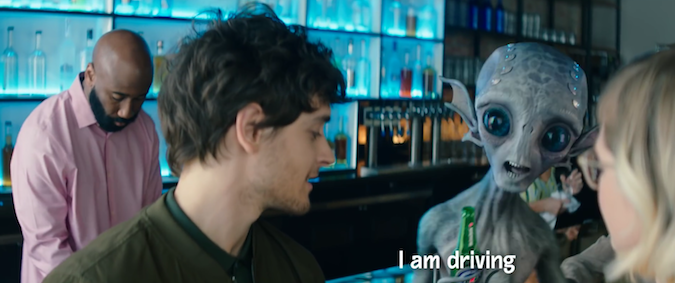 Ads for Heineken's new '0.0' beverage target a whole new demographic for the brand: non-drinkers.
'Open to All', the campaign promoting Heineken's new alcohol-free beer champions diversity and those who opt out of drinking in a variety of situations.
The campaign's 'Ode to Openness' hero spot features an encouragingly diverse range of patrons (although it's arguable the alien risks trivialising the entire message) making their way to a bar to join each other for a drink, before realising that "oops," it had left out non-drinkers from the party.
Further videos in the campaign developed by Publicis Milan tell stories of other situations where people might choose not to drink alcohol, such as at yoga, as designated driver, and while raising a baby.
Beer brands delivering progressive social messages is quite a popular trend. At last year's Super Bowl, Budweiser used its brand story of a German immigrant to the United States and opening a brewery to declare its support of immigrants to the nation. Closer to home, the Sparkke Change Brewery Co's cans deliver messages of gender equality, consent, Indigenous heritage recognition and welcoming asylum seekers.
It's not a new thing for Heineken, either. It's 'World's Apart' experiment from earlier this year paired citizens with opposing viewpoints and filmed their discussions as they sat down over a Heineken. It garnered praise and criticism and has over 13 million views on YouTube.