OpenTable launches first brand campaign with 'Right Table'
OpenTable has launched its first brand campaign in the Australian market.
Restaurant reservation platform OpenTable has launched 'Right Table' its first brand campaign in the Australian market.
Using original illustrations, the campaign showcases diners eating at tables not intended or dining, and delivering the tagline, 'Next time, get the right table.'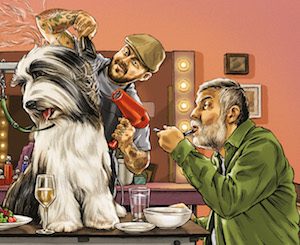 The campaign is running digital and influencer events, as well as out-of-home showcasing in prominent sites in Sydney and Melbourne, including Norton Street and South Darling Street in Sydney and Lonsdale Street and St Kilda in Melbourne. Digital versions of the creative will run across Time Out, Broadsheet, Instagram and Facebook.
The illustrations were commissioned from Tim Tomkinson, an award winner whose work as appeared in The New Yorker, GQ and Rolling Stone.
As part of the campaign, OpenTable will be the exclusive booking partner for the Broadsheet Restaurant in Sydney through to 4 December 2016. It will sponsor a family-style dinner event on 22 November and partner with TimeOut in Melbourne to host the TimeOut Chef Showdown event on 13 November.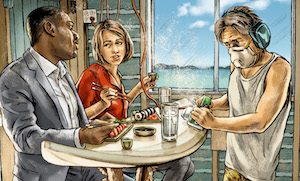 "Sydney and Melbourne are two of the world's great dining cities. Not only do we have top home-grown talent but we are also seeing international chefs and restaurants bringing their offerings to Australia, recognising the potential of the market. We are excited to bring this campaign to life and continue to connect great restaurants with enthusiastic diners," says Lisa Hasen, OpenTable vice president Asia-Pacific.
While this is the first campaign in Australia for OpenTable, it is already used by some of the nation's most notable eateries, including Lotus and Momofuku in Sydney and Red Spice Road, Movida and Grossi Florentino in Melbourne.