PayPal launches Christmas assault with secret Santa gift chooser – Instakringle
It's the lack of thought that counts when it comes to 'secret Santa' presents this year, according to PayPal, who've launched the first in a number of campaigns to keep its name front and centre during the Christmas retail season.
The payment service has developed a website, called Instakringle, to take the bother out of choosing a Kris Kringle present for a colleague or relative. A partnership with retailers Glue Store, eBay, oo.com.au, Kogan and Deals Direct, the site requires only three inputs to decide on a gift – sliding scales between male and female, corporate and eccentric, and wallflower and boss.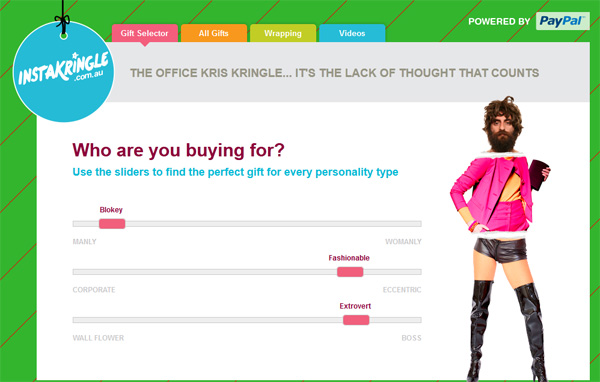 "There's a Secret Santa gift idea to suit everyone, even that weird guy in accounts. Make yours the best gift at your office Christmas Party. Plus, you can print your own wrapping paper and gift tags. Kringle crisis solved! Jump on to InstaKringle.com.au and remember… it's the lack of thought that counts," the YouTube description for the campaign reads.
Head of brand and consumer marketing at PayPal, Juliet Mackenzie, says, "The Instakringle activity is one of a number of campaigns we are currently running in the lead up to Christmas to ensure we have presence during the busiest shopping period of the year."
"We have worked with some of our 60,000 Australian retail partners to create a website that offers a range of quirky gifts for under $30, which can be purchased quickly, easily and securely via PayPal."
It's being promoted via a series of online videos, press, radio ads, digital office and café screens in CBD locations across Australia, as well as online banners for desktop, tablet and mobile.
The campaign was created by Dynamix and We Are Social.