Prediction: a 15% jump in online shopping this holiday season – Adobe
Analysis of 20 billion visits to ecommerce websites has led Adobe to predict that Australians will spend 15% more online this holiday season compared to last year, and that things are looking up for traditional retailers.
The 2014 edition of the 'Adobe Digital Index Holiday Shopping Prediction' predicts the holiday season will see a 15% rise in shopping through digital channels, kicking off next week with the annual Click Frenzy event where Adobe says will top $189 million in 24 hours.
In positive news for traditional retailers, Australians are more inclined to do their shopping during the holiday season with established retail players who have expanded from their physical stores into the digital world, despite the rise in the number of pure-play online stores.
That's good news partly because Australian retailers are the fourth-most dependent in the world on the holiday sales season for online revenue, relying on it to deliver almost a quarter of total annual online sales in just a few short weeks, behind retailers in Brazil, the US and the Netherlands, the study says.
The graph below shows the relative online sales across November and December, with Australia kicking off mid-November. That massive spike in China is for Singles Day on 11 November, which has become the largest online shopping day in the world.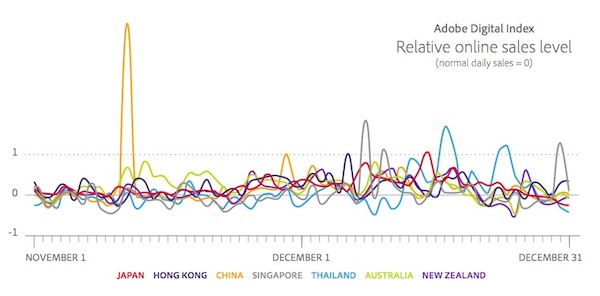 Paula Parkes, Adobe's head of marketing for Asia Pacific, says she expects those traditional retailers making moves into digital will start winning. "They're the ones that are making the most and strongest attempts to catch up with consumer expectations in omnichannel."
Whatever the market's perception of how fast or slow major retailers have transformed for digital, Parkes points out that ultimately they're the brands people know and trust. "Powering up their ability to engage online is really critical. We know that 84% of offline shoppers were already influenced online."
The propensity for Australians to shop on smartphone is just behind Japan, Ireland and the US, the analysis found. By the end of the year 8% of all online sales in Australia are predicted to be conducted through phones, with the increasing ease of payment methods making buying on the run a natural evolution for shoppers who are breaking free from the constraints of the desktop.
Further, phones are beating tablets as the preferred mobile shopping device, with growth in shopping on tablets stagnant at around 11% year on year.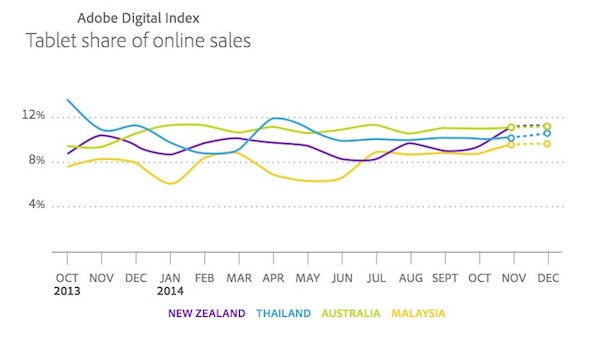 The 2014 'Adobe Digital Index Holiday Shopping Prediction' looked at billions of transactions around the world, with data for the report collected from analysis of 4500 websites, 20 billion visits to ecommerce websites in 2014 and more than 1 trillion visits since 2008.