Revenue soars 240% for Click Frenzy merchants, despite crash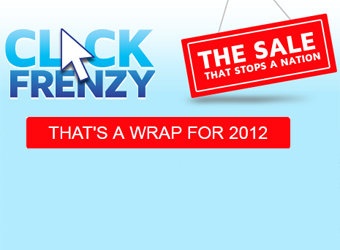 Click Frenzy, the troubled 24-hour sale which ended yesterday, resulted in more than $1.5 million worth of goods sold locally and a 240% increase in revenue for many retailers involved.
Payment gateway eWAY analysed transcations completed through its network, which included many of the retailers involved, finding that collectively participants in the sale notched a revenue increase of over 200% between 7pm on Tuesday 20th November and 7pm Wednesday 21st November 2012.
Sales of around $1.5 million went through eWAY's systems during the 24-hour period – a 240% increase on the same time during the previous week. The number of transactions during the 24 hour period also ballooned by over 285% to over 14,000.
The sale got off to a rocky start when unexpectedly high traffic converged on the Click Frenzy site upon its opening at 7pm on Tuesday. Many retailers have been involved in discussions over a refund after the site went down during the time of greatest traction for the advertising investment they made.
One of eWAY's customers brandsExclusive, an online fashion retailer, has come out in support of the sale, stating they would participate again when the event next runs – at the same time of year in 2013.
"We saw strong increases in traffic throughout the 24 hour period with a spike in new members joining our site as well as a lift in unique visitors," Daniel Jarosch, cofounder and managing director of brandsExclusive, says. "The traffic and revenue figures over the 24-hour period were very promising and we would definitely consider participating again."
eWAY's other Click Frenzy merchants include retailers in consumer electronics, outdoor gear and fashion such as Anaconda, Shaver Shop, Ezy DVD, Katie's and Camera House.
CEO of eWAY, Matt Bullock, believes the event took online shopping before Christmas to the next level with knock on effect for all retailers.
"We always see an increase in volumes in the lead up to Christmas, but Click Frenzy has pushed online sales to the next level," Bullock says. "While our merchants participating in Click Frenzy have benefited, it has also has a positive impact on many other online businesses, with overall sales volumes spiking over the frenzy period. I see the huge interest in Click Frenzy as an example of how strong Australian ecommerce really is."
Click Frenzy is modelled on the phenomenally successful Cyber Monday in the US, an event for online retailers to capitalise on the Thanksgiving Holiday 'Black Friday', which has become the biggest retail sales day on the US calendar. Cyber Monday is the biggest online sales event in the US and has grown significantly every year.