Share a Coke campaign post-analysis
Share a Coke campaign post-analysis
Campaign:Share a Coke
Client: Coca-Cola
Agencies: Naked Communications, Ogilvy, Wunderman, Ikon, Fuel, Urban, Momentum, One Green Bean
Background
With the world flocking to the digital space, the way we connect has started to change, and, it would seem, the more friends we gather online the fewer we see in real life.
Coke needed to adapt to this changing environment and needed a campaign that would encourage people to connect with the brand both online and offline. In addition, summer has always been a key sales period for Coca-Cola. With the introduction of new products, brand extensions and the blurring of traditional categories, however, the soft drink market has never been so competitive.
So in summer 2011, Coca-Cola wanted a big idea to combat this competitive market and get Australians to sit up and notice Coke. A campaign was needed that would make a big splash and disrupt and excite Australians. It also needed to have mass appeal, while hitting the 24-year-old bull's-eye target.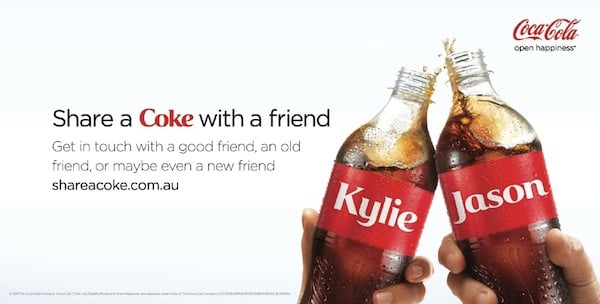 Objectives
The primary campaign objective was simple: increase consumption of Coca-Cola over the summer period. The secondary objective was to get people talking about Coke again.
The campaign needed to make consumers see Coke in a way that would encourage them to actually consume the product, not just love the brand.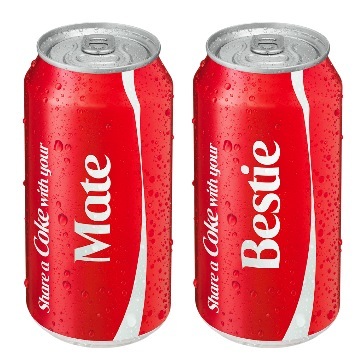 Strategy
Coca-Cola wanted a core idea that would reunite Australians with the idea of getting together and sharing a good time over a Coca-Cola.
They wanted to jumpstart real conversations and remind people of those in their lives they may have lost touch with, or have yet to meet.
Australians are known for calling each other by their first name, or 'mate' for that matter. And, in order to bring people together, Coca-Cola needed to encourage this on a more personal level… and what better way to spark conversation than by using a first name!
So in 2011, Coca-Cola initiated these conversations by putting Australians front and centre and encouraging them to connect and 'Share a Coke'.
Coca-Cola printed 150 of the country's most popular names on labels of Coke bottles for the first time in the brand's history, to remind Aussies not only of those people currently in their lives, but also people they may have lost touch with, giving them a reason to connect.
The multi-platform communications strategy acted as an invitation to 'Share a Coke' with someone you know, or want to know and gave people the tools to find, connect and share.
Varied content was created to suit a broad target audience allowing people to engage with the campaign in different ways, to varying degrees and via different contact points, making the campaign relevant to people who wanted to get highly involved or for those who just wanted to take part in the fun.
Coke constantly listened to what consumers were doing with the campaign in order to be able to surprise, maintain momentum and spark further conversations throughout the campaign period.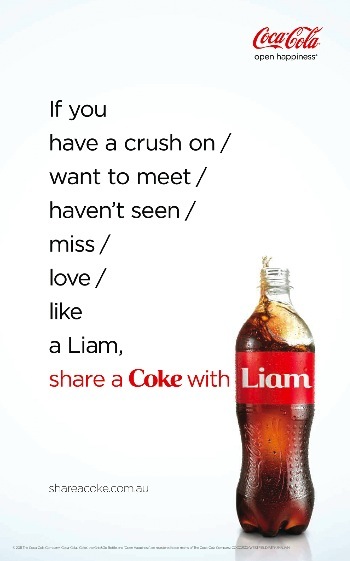 Execution
Prior to campaign launch, Coke bottles with names on them began appearing in fridges across Australia, allowing consumers to discover the names on-pack themselves, sparking online conversations and media interest.
The campaign then launched with a big bang across multiple channels.
First, the campaign story broke on page three of The Australian newspaper, followed by a flow of marketing trade coverage.
The TVCs, which featured a montage of volunteered photos of real people who shared that name, first aired across the biggest weekend in Australian sport – during the AFL (Australian Football League) and NRL (National Rugby League) grand finals, reaching 30% of the population.
Key media and celebrity influencers with a large social media footprint were identified and sent personalised seeding kits with a Coke product bearing their name, including campaign messaging to share with their network of fans.
Through a partnership with Austereo, 150 name songs were created and broadcast on-air nationally. Consumers then used these songs as inspiration to connect via Facebook.
Consumers were invited to SMS a friend's name, which was projected live onto the iconic 'Coca-Cola' sign at Sydney's King's Cross. They then received an MMS enabling them to share their friend's name up in lights, via Facebook and email.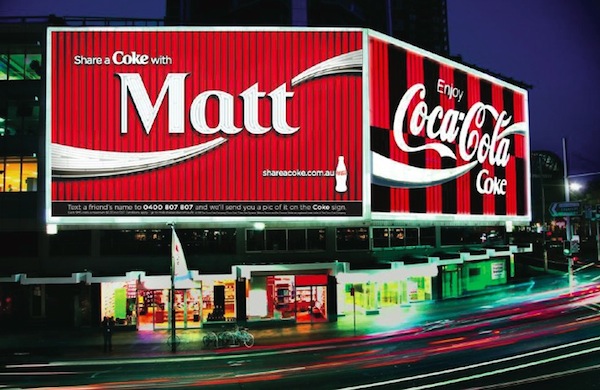 Participation and mass sharing was achieved through Facebook, which provided consumers with the tools to connect and 'Share a Coke' by:
creating a personalised virtual 'Coke' can to share with a Facebook friend, and
making their own TVC, featuring their friends' profile pictures.
Following launch, thousands of requests poured in for more names. We were ready with kiosks that toured 18 Westfield shopping centres inviting consumers to personalise a Coca-Cola can with any name of their choosing.
Still, requests kept coming in. We listened to our captive Facebook audience and asked them who they wanted to 'Share a Coke' with most. After 65,000 people got their say, Coke bottles with 50 new names were released.
Results
The campaign exceeded expectations with millions of Australians getting together and 'Sharing a Coke' either virtually or literally.
Young adult consumption increased significantly during the campaign, up by 7%, making 2011 the most successful summer ever. The campaign earned a total of 18,300,000-plus media impressions.
Traffic on the Coke Facebook site increased by 870% and the Facebook page grew 39%. In Australia, we were the number one most talked about Facebook page and 23rd globally. Seventy-six thousand virtual Coke cans were shared online and 378,000 custom Coke cans were printed at local Westfield malls across the country.
The campaign also changed attitudes: over the campaign, teens claimed it gave them a 'very positive' impression of Coke. Scores on 'always doing new things','is a brand I love' and 'for someone like me' all improved with the young adult audience.