Sorrell: CSR now front and centre for world's biggest brands
Corporate social responsibility (CSR) is now front and centre to the strategy of the world's biggest brands, WPP CEO Sir Martin Sorrell told members of the marcomms industry at an event last week.
Speaking at the Growth Faculty's Global Leadership Series breakfast in Sydney last Friday, Sorrell said the 'greenwashing' and lip service corporates were paying to CSR is gone. "Fundamentally if I look at our biggest clients, whether it's Ford or Unilever or Procter & Gamble or Kraft or Nestle or Kellogg's… whoever. CSR is front and centre for their strategy and is a core part of who they are. It's not a nice to have a department… it's front and centre to what they do."
Sorrell's words are backed by a recent study from PricewaterhouseCoopers which found marketers are now attempting to prove the return on investment of their sustainability programmes, as the use of CSR matures.
The study, which polled 1400 senior executives, found that 61% of organisations had applied valuation techniques to sustainability programs, while 39% had not.
Monitoring aggregate cost savings was the most common approach taken to measure return on investment, applied by 24.2% of interviewees. Cost-benefit analysis was also a popular technique used to prioritise sustainability initiatives, used by 22.3% of participants. A further 16.3% of organisations measured the total value generated, including indirect benefits, such as 'helping the environment', which was referenced by 40% of the sample, and securing and keeping talent, mentioned by around 25%.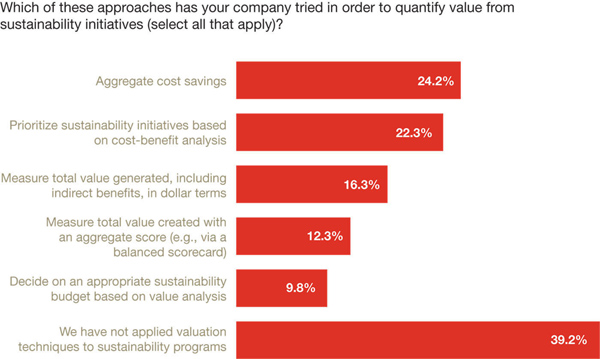 Noting the growing interest among the industry for prioritising sustainability initiatives, principal in PwC's sustainability valuation practice, Herve Kieffel, says being able to measure and quantify the intangible benefits of sustainability in dollar terms, should precede setting and publishing sustainability goals.
Green was earmarked as an important factor for recruitment purposes, as well as a brand building tool. "To attract and retain the best talent, companies need to demonstrate their green efforts and environmental responsibility," Kieffel says.
Concluding his talk last Friday, Sorrell quoted former CEO of BP, John Brown's, words 'doing good is good business'. "People finally understand that if you improve the lot of your stakeholders and you're in the business of building brands and products and services, which we are, for the long term, doing good is good business," Sorrell remarked.