Virgin Australia confirms Passbook app will land in Aus
Virgin Australia has confirmed reports Apple's Passbook app is already functional in Australia, and formally announced its support for the ticketing and loyalty app.
Passbook, which will feature in the upcoming release of Apple's iOS 6 operating system, is designed to act as a central point for boarding passes, tickets and loyalty cards and touted to be a precursor to a mobile payments system.
Virgin Australia tweeted: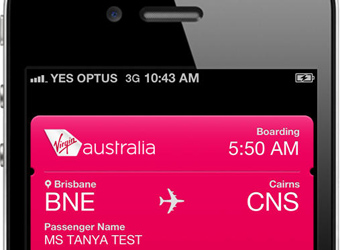 "The rumours are true, we'll be supporting Passbook for iPhone – more to come soon! pic.twitter.com/S0xTzUAo".
Virgin Australia's Melissa Thomson provided more detail in an emailed statement.
"Virgin Australia is planning to release mobile compatible technology allowing guests to store boarding passes using Apple's new Passbook application," Thomson said. "We believe that we are the first Australian airline to offer this service to our guests. Boarding passes stored in Passbook will be automatically displayed on guests iPhone screen at time of boarding."
The tweet was in response to a report from the Australian Business Traveller who said a Virgin Australia passenger, Shaun Lorrain, checked in for a flight from Adelaide to Sydney on Friday using the airline's mobile website; iOS 6 detected the check-in and offered to save the information into Lorrain's Passbook account.
"Today after checking in last night and adding it to Passbook, I went straight through Adelaide Security to the lounge," Lorrain told AppleInsider. "Had my breakfast and then proceeded to the gate. They took my iPhone and scanned it the exact same way they would have if I was using the web URL that they text you for a boarding pass."
Passbook will also aid airline travellers by providing up-to-date information on delays and boarding gates, Marketing understands.
Four airlines are believed to be rolling out Passbook support for their passengers, with Electronista reporting American Airlines, United, Virgin and Delta preparing for iOS 6-carrying customers.
Originally published on Marketing's sister site Macworld. Additional content by Marketing staff.