SPC goes true blue in centenary campaign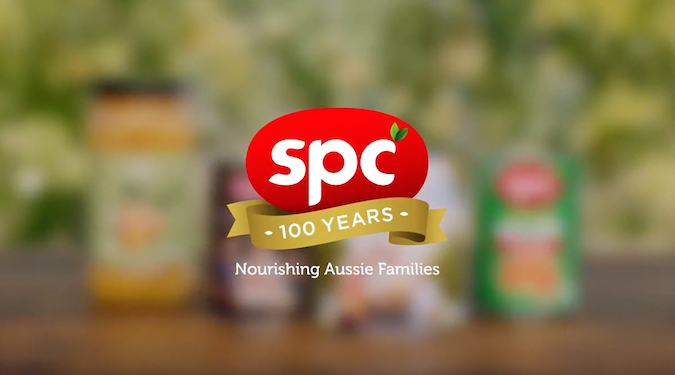 SPC is marking its centenary with its latest master brand TVC '100 Years Nourishing Aussie Families'
The campaign aims to affirm SPC's place in Australian heritage. Developed in partnership with Leo Burnett, the TVC celebrates SPC's place in the classically Australian family barbecue, complete with sprinklers, backyard cricket and mischievous kids.

SPC's general manager of marketing and innovation, Simone Coté, says "not only does our new TVC honour the momentous milestone of turning 100, it encapsulates the spirit and legacy of SPC through hero-ing key moments in Australian culture, brought to life through the great employees of SPC."
The advert features Mark Jeganathan, procurement manager for SPC based in Richmond, and co-stars his wife and two sons, as well as SPC's packaged fruit and vegetable line. "It was such a fantastic opportunity to be featured in the campaign, with my family…it's a genuine reflection of the people at SPC".
This commercial serves to assert SPC's role within Australia's culture and history, emoting a uniquely Australian lifestyle. Panning from the barbeque scene, the commercial reveals an enormous SPC orchard attached to the backyard, the voice-over delivering the message: "we've… grown up on SPC for 100 years, because its made in our own backyard."
"Our new TVC is about all-Australian goodness and the food that SPC has been producing to nourish Australians for the past century. Here's to another century and more great stories to tell," Coté concludes.
The initial commercial launches with a 30" version, with a series of similar 15" short stories to come over the following six months, the campaign having launched February 18.
SPC began in Shepparton, Victoria in the early 1900s, where the company's national distribution centre is still based. As of 2014 its output was 80,000-90,000 tonnes of fruits and vegetables, distributed locally and internationally. It most recently secured its entry into the Chinese market through its partnership with China State Farm Agribusiness Shanghai (CSFA Shanghai).