SPC puts farming families on the label in latest push back against private label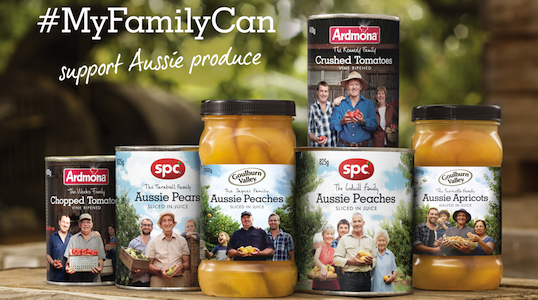 SPC Ardmona has launched a new packaging-led campaign that capitalises on support for Australian primary producers.
The preserving company is launching a series of cans and tubs featuring images of the people behind the products, appearing on its three brands, SPC, Ardmona and Goulburn Valley.
Packaging and direct access to producers is one advantage the brand has on supermarket shelves increasingly dominated by private label products, a phenomena that has led to the growing importance of FMCG packaging.
Each #MyFamilyCan features an image of the farming family behind the peaches, apricots, pears and tomatoes. For the next three months, the cans will aim to "empower" shoppers in Woolworths, Coles and selected independent supermarkets by giving them a sense of where their money is going and where their food has come from.
Both Coles and Woolworths produce private label varieties of canned and packaged fruit products that directly compete with SPC and usually sell for cheaper prices.
Complicating matters, last year both supermarket chains announced deals to source their private label fruit products from SPC Ardmona. In early 2014, Coles started ensuring 100% of its canned peaches, pears and apricots were sourced through SPC Ardmona. It previously sourced these internationally. 80% of preserved fruit on Coles' shelves is now from SPC and Goulburn Valley.
SPC Ardmona is also Woolworths' largest supplier of canned fruit. Last year, Woolworths announced it would invest $3 million towards sourcing all of its canned fruit from Australian farmers through SPC Ardmona, benefiting 118 fruit growers in the Goulburn Valley and saving 50,000 fruit trees per year from being destroyed.
SPC Ardmona's branded products comprise a wider range of options than either major supermarket.
SPC marketing and innovation director Sandra Pereira hopes the #MyFamilyCan campaign helps shoppers feel more confident about their purchases. "SPC stands by Australian growers who produce the cleanest, greenest and safest food in the world. We're proud to be associated with our growers and to do our part to market the obvious benefits of Australian grown and made products."
Partnering with Leo Burnett Melbourne, the campaign will also include PR, print, point-of-sale, online and tactical social media executions. Jason Williams, Leo Burnett Melbourne's executive creative director, says: "This idea allows us to respond to an Australia-wide conversation, and to steer it in the right direction. This is bigger than just food labelling. It's about supporting Aussie produce in general."
This video features one of the families featured on a #MyFamilyCan:
SPC #MyFamilyCan TVC: