Surf brands take a dive as Gen Y Aussies opt for 'disposable fashion'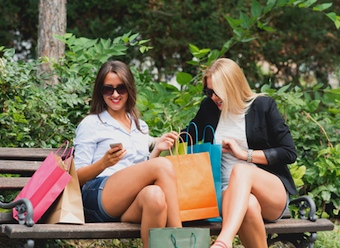 Gen Y Aussies are ditching surf brands for sportswear, young women still love a Target bargain and almost one-third of youth brought their latest retail purchases online, according to the new Lifelounge Sweeney Report released today.
The report, formerly the Urban Market Research (UMR) survey, is the most comprehensive study into Australia's 16-30 year old youth market.
Findings show that Nike has stolen the lead from Billabong as the top brand of choice for Australia's youth (10% vs 13%), with surf brands Quiksilver and Rip Curl also taking a dive in popularity.
Young females continue to drive 'disposable fashion' with the survey showing a preference for cheap and current wears from Cotton On and Supre. Target also ranked well amongst Gen Y women, perhaps boosted by its Gok Wan advertising campaign.
Major brand chains remain the preferred way for youth to shop with 42% claiming their last purchase was bought in a chain store. But independent stores again took a tumble, down from 34% of last clothing purchases in 2009, to only 18% in 2013.
A long spell of a strong Aussie dollar also drove online purchases with 28% of young people buying their latest purchase online.
CEO of Lifelounge Dion Appel says as long as the price is right young people prefer to by in store.
"Youth have grown up in an instantaneous world where they don't wait for anything. So why would they wait for something to arrive by snail mail unless it's the absolute must have?" Dion says.
Cost is highly important for youth across-the-board with 53% saying it was a primary consideration when buying fashion, up from 41% in 2011.
The report also shows a difference in influences, with16-17 year olds saying they are more influenced by celebrities or friends when it comes to choosing clothing, whereas 25-30 year olds are more likely to consider the designer (16%) and the origin of where the items were manufactured (11%) as important, compared with their younger counterparts (14% vs. 9% respectively).
Appel says that young people are both image and money savvy and favour brands that deliver more than just clothes.
"The future is bright and brands that deliver more than fashion and more on lifestyle will win a greater share of the market."