TEDxSydney to spotlight Asia Pacific and new economies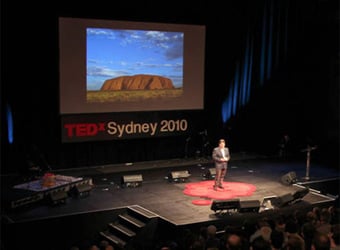 Leaders from the robotics, economics, astronomy and business worlds will headline TEDxSydney when it comes to town on May 26.
The event will feature 20 leaders from a range of fields, including the newly installed head of University of Sydney's Business School, Geoff Garrett, Nobel Prize winning astronomer Brian Schmidt and Jeremy Heimans, the man behind the GETUP concept.
Executive producer of the event, Janne Ryan says one of the focuses this year will be around new economies and Australia's changing role in Asia and the Pacific. She says the event will draw on leaders who are making discoveries set to transform the 21st century.
"From the way we negotiate our personal and political relationships, to the economy, the design and building of our cities and the world of data and quantum physics, TEDxSydney 2012 will share a way forward," Ryan predicts.
Among the list of presenters confirmed for the event are:
•           Professor Kate Burridge, chair, linguistics, Monash University and a regular presenter of language segments including ABC's Can We Help – will talk about the evolution of our Australian English.
•           Professor Hugh Durrant-Whyte, CEO, NICTA, robotics researcher. Hugh's work in field robotics leads the world. Australia is developing robots that work independently – they direct themselves. These revolutionary robots will be seen in person, going through their paces, at TEDxSydney.
•           Professor Geoff Garrett, currently CEO US Studies Centre, and the new head of University of Sydney Business School from April. Professor Garrett will talk about Australia's new role and relationships in Asia and with the US.
•           Professor Tom Griffiths, environmental historian will look at how Australia has changed over the last 1,000 years as the world temperature has risen one degree "One Degree, One Thousand Years." Professor Griffiths has just returned from a trip to Mawson's Hut.
•           Sydney-born Jeremy Heimans, who is behind the concept and foundation of GETUP, now USA based and a co-creator of purpose.com. Jeremy has a new model for economics that he is working on – which looks at the emerging markets of China and India specifically.
•           Dr Evan Kidd, ANU-based psychologist, will talk about the role of imaginary friends and play for both adults and children. His new research will premiere on TEDxSydney stage.
•           Dr Angela Moles, Eureka Award winner 2011 and researcher on the World Herbivory Project will speak about her research on weeds, and show how we should re-consider and re-position 'weeds'.
•           Gerard Reinmuth and Anthony Burke, architects and creative directors of Australia's representation at Venice Architecture Biennale 2012 will put forward their ideas for The City and how it will shape 21st century Australia.
•           Nobel Prize winning astronomer Brian Schmidt, ANU Canberra. Professor Schmidt will speak about the role of science education in primary schools.
•           Professor Michelle Simmons, director, Australian Centre of excellence for Quantum Computation and Communication Technology.  Professor Simmons is a world leader in data storage, and her recent work puts her one step closer to the world's first quantum computer.
•           Professor Mandyam Srinivasan, professor of visual neuroscience, Queensland Brain Institute, and, School of Information Technology and Electrical Engineering, University of Queensland. Mandyam will show leading research comparing how bees work and how we think.
•           Tim Southpommasane, political theorist and philosopher, research fellow, Monash University. His new book Don't Go Back To Where You Came From, will be published in September 2012.
•           Lynette Wallworth, recognised as one of Australia's leading artists, will showcase her latest work Transit of Venus. This multi-media interactive work positions Australia in Asia and the Pacific. This piece will be a special preview before the work travels to London for the London Olympics.
Applications to be part of the audience at the Carriageworks venue in Eveleigh can be made on TEDxSydney's website from now until midnight AEST 5 April 2012. The event will be simulcast live online.