Telstra launches phone box Wi-Fi hotspots with free trials for anyone before Christmas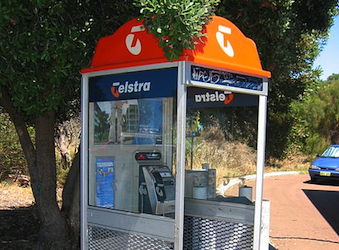 Telstra has rolled out its first test group of phone box Wi-Fi hotspots and announced more than 100 towns and cities will gain access to 1000 hotspots before Christmas.
On the surface the move seems set to revolutionise the way Australians use broadband in public places, but only paying Telstra customers will gain 'free' access to the hotspots after the trial period (Telstra has failed to specify how long the hotspots will be 'on trial' for).
The company has released the following information, without yet specifying price points:
"Telstra home broadband customers with a compatible gateway who join the Wi-Fi community can use their home broadband allowance at domestic hotspots and more than 13 million Fon-enabled hotspots overseas. Non Telstra customers and Telstra customers who have not joined the Wi-Fi community will be able to connect to Fon-enabled Telstra Wi-Fi hotspots for a small charge using guest passes."
During the trial, users including those not with Telstra can connect to the Wi-Fi hotspots for 30 minutes free. The hotspots have a set maximum amount of users to avoid slow speeds. Users should stay within 20 to 50 metres from the hotspot while using it.
Hotspots switched on by Christmas will include:
38 in Sydney (including The Rocks, Hyde Park and Bondi),
18 in regional NSW,
48 in Melbourne (including Bourke St Mall, Lygon St and St Kilda),
13 in regional Victoria,
29 in Brisbane (including Brisbane City, Fortitude Valley, New Farm and West End),
11 in regional Queensland,
eight in Western Australia,
seven in South Australia,
six in Northern Territory,
four in Tasmania, and
four in ACT.
Telstra aims is to switch on more than two million hotspots across Australia over five years.
The first trials will be at payphone sites but in future Telstra plans to also build hotspots to place at its retail outlets and exchange buildings.
Group Executive Telstra Retail, Gordon Ballantyne, said:
"We want customers to have greater options for connecting when they're out and about. From browsing the web, streaming videos or sharing photos with friends, we want customers to have a taste of what the network will be like next year, when Telstra Wi-Fi members will be able to use their home broadband allowance at the hotspots."