The full-service agency is dead. Long live the full-service agency
Given the rate of change in our industry, now is a good time to be thinking about the future of the service offering (creative, media, digital, search, social, PR etc.) to client partners. This is written from a perspective of having worked at five full-service ad agencies and three media shops over 25 years in London and Melbourne.
If you work in an agency, media shop, digital agency, PR, search or social consultancy, then I imagine you'll be thinking about some of the issues covered here. If you're from the client side, then it's just as relevant because you are the people we strive to partner with. Your business model is equally important as ultimately the future service offering needs to be relevant to your future needs.
Back in the day, the ad agency structure could be summarised as below. Creative solutions were the hero (30 seconds/colour pages etc.) with the account team owning the client relationship. Account planning was emerging and media was a backend function. This status quo meandered on to varying degrees for years until the end of the 20th century.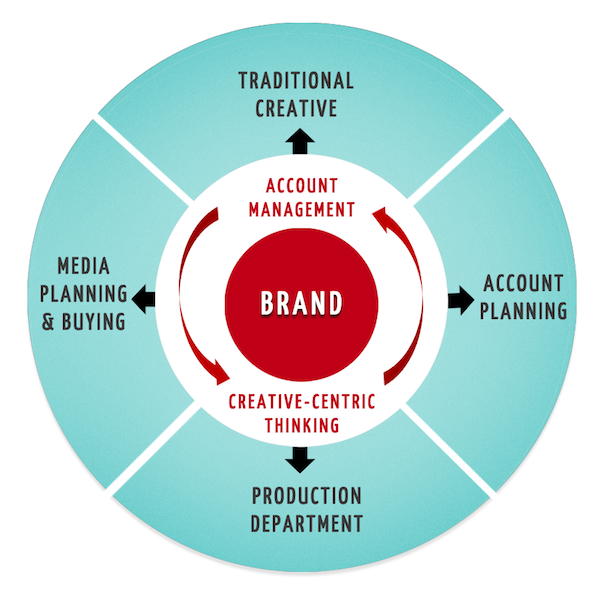 In 2000, my passion was to re-create a full-service agency with creative-communication thinking at the core, rather than traditional creative. I always felt that starting with the creative concept was putting the cart before the horse. I understood that the words and pictures were the instant gratification bit of advertising that clients liked to focus on, but to my mind, if 90% of marketing budgets were spent on media, why was it only receiving 10% of the client's interest? Surely starting with the who, what, where and when before developing the creative made more sense?
2000 was a time when several step changes were in play; media independents had established their credentials away from the full-service mother ship and digital agencies began to emerge. As media broke away, so too one of the barriers to entry was removed and we saw creative boutiques make a break for it, closely followed by research shops.
Suddenly clients had some serious service-fragmentation on their hands. The previously cosy reliance on the full-service agency account director became a thing of the past as clients had to juggle their time and invest in better understanding the silos of creative, media, planning, digital, research and production.
Over the years, I think we all benefitted as the quality of clients has improved by virtue of their being better informed, coupled with the need to pull it all together themselves.
A generation has passed and we are starting to see all aspects of media and creative merge – whether it be digital or not. Like globules of mercury, various silos are starting to come together again. At the same time, we are witnessing a game-changer emerge: that is, social media. Anyone who has successfully embraced the potential of social will know the knock-on effect it has way beyond just marketing, and the implications for the agency model.
Social media isn't a box to be ticked or a department to be manned or even a campaign to be launched. It's about thinking differently about marketing, customer service and the entire company. It's about realising that consumers are running the biggest recommendation service in the world and that, as has been tiresomely often repeated, they define the brand (no, this is not new; yes, this is becoming more obvious and important by the day). Today, all thinking about a product, its customers and communications, needs to take this into account – social media cannot sit in a silo.
Social is all pervasive by:
Improving customer service, PR and research through a dynamic customer insights (B2C & B2B),
reducing investment in traditional media and search marketing as communities grow generating content,
converting static web sites to web-based marketing tools with shareable content which in turn drives traffic, and
increasing speed of execution, creativity and innovation to enhance marketing effectiveness and in turn generate sales/leads.
Then we have today. Long live the full-service agency. At the very core of a social business strategy is consumer-centric thinking… finally.
Today's digital and non-digital ecosystem is a good deal more complex than agencies and clients have ever had to face before. If you accept that social needs to be at the core of consideration (and you may not) then the new full-service agency structure, below, is the way forward.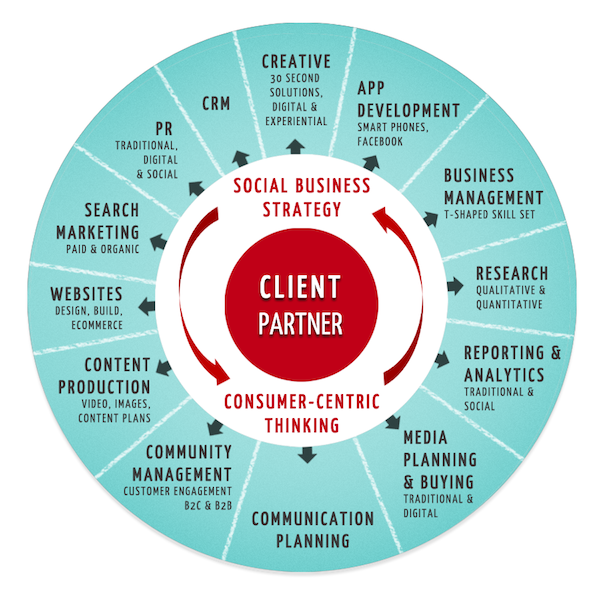 One of the challenges in the world of fragmentation is that business relationships have become relatively wafer-thin. If you're a media shop, then you become highly vulnerable to a competitor cutting fees, very much a hot topic at the moment. Likewise if you offer creative services or search marketing, then pricing (often unreasonably) can be a differentiator and catalyst for change.
Much is written about who 'owns' social. Many put their hands up but the keys to the long-term-relationship-castle are linked to how deeply we can embed ourselves in the platforms, both internally and externally, of our client partners. Social can power business strategy, not just be seen as part of the marketing mix. If you don't have direct access to a client's social properties or work closely with their teams, then you'll be in trouble. The services we provide today must match what the market demands.
So the question arises as to what skill sets are needed for such a comprehensive full-service agency model. There is no training course anywhere designed to prepare your company for the pace at which this space runs. At FRANk we look for T-shaped people. Such people contribute an area of awesomeness with core skill ability and just as importantly, have an appetite for collaboration, enthusiasm and empathy for the contribution of colleagues.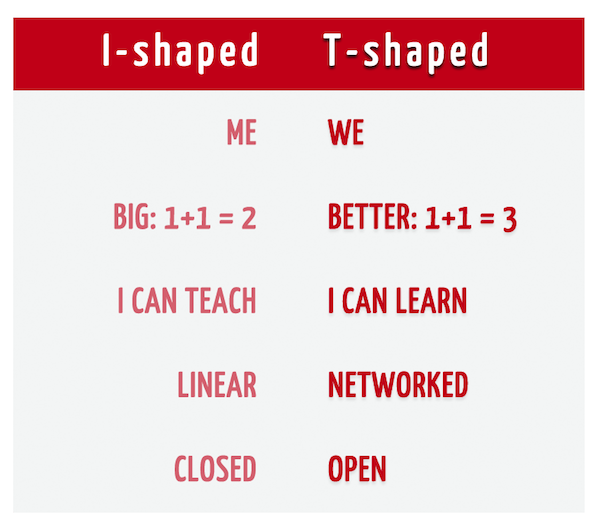 The common denominator beyond the right skills is the need to deeply understand the culture of service, as well as the language of business, to better understand how clients build theirs.
In 30 years much has changed and the rate of change is one of the single biggest challenges facing agencies, specialist shops (media, digital, search etc.) and client partners. We're at a stage when senior business leaders are happy to admit that 'they don't know what they don't know'.
This social thing is not going away and first-mover advantage is there for most brands to form long term sustainable points of difference over their competitive set.
Who is going to service their needs? Is it going to be a combination of media shop, creative agency, digital agency, research company, PR and search specialists all claiming to be on board to some degree with social, or is it going to be an integrated full-service offering with T-shaped people within?
Be interesting to hear what other service providers think and of course client partners. I'll be sure to get back to you.