The new issue of Marketing mag is on sale…NOW!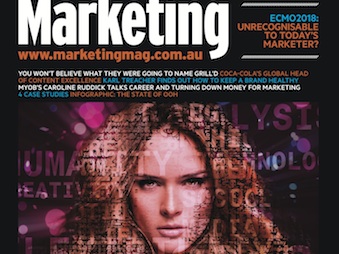 This month you can expect:
Brand Profile: 
We spoke with Grill'd founder Simon Crowe on what Grill'd was actually going to be called (Bugger the Cow) and why he ditched it for being too 'gimmicky'. He also shared some insights about how the brand on everyone's lips created an entirely new culture of eating in Australia without advertising.
Interview: 
We interviewed Coca-Cola's vice president of global advertising, strategy and content excellence, Jonathan Mildenhall, chats about that video, the balance between thinking and feeling, and what agencies need to do to stay on his roster.
Career Profile: 
Caroline Ruddick, general manager, marketing at Australia's largest B2B accounting software company, MYOB, talks about how a mixture of serendipity and unshakable tenacity has seen her work across an extensive range of marketing roles to New York and back.
FEATURE: 
Humanity or technology? Flexibility or strategy? Creativity or analysis? We gaze five years into the future to paint a picture of the CMO of 2018's core competencies, the key areas of her technical knowledge, and her place in the business.
All that and plenty more, so make like a teenage girl at a Justin Bieber concert and get your copy of Marketing mag NOW!