The next biometric payment technology could be a device that scans the veins in your palm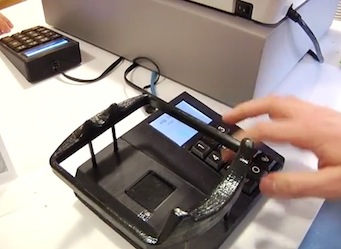 If you thought fingerprint recognition was the forefront of biometric security technology, think again. A number of companies are bringing us one step closer to the future ­- this time, with technology that scans the veins in your palm.
A Swedish University has already teamed up with startup company, Quixter, to provide palm-vein scanners at their campus store checkouts. The terminals allows for speedy payments, requiring users to key in the last four digits of their phone number, before scanning their palm. Handy, if you've forgotten your wallet.
Hackers last year proved current fingerprint technology to be an insufficient security measure after they unlocked an iPhone 5S with a copy of fingerprint residue.
Palm-vein patterns, though, are harder to replicate and their unique structure changes little over the course of a lifetime.
The practical applications of the vein scanners are expanding, allowing users to access their data with a swipe of the hand. US company Biyo was the first to create payment terminals that connected a palm scanner to a credit card. Fujitsu has also integrated a palm scanner into one of its laptops.