The sharing CEO
From a marketing base, Chris Noone's career saw him involved in the early days of emerging industries, from video games to mobile content. Now he's CEO of a company already capitalising on another sector promising big things: the sharing economy. By Ben Ice. Illustration by Sara Hingle.
There are a few themes that have run throughout the career of Chris Noone, CEO of Collaborate Corporation, a company that operates peer-to-peer businesses including DriveMyCar, MyCaravan and Rentoid. Primarily, Noone expresses a desire to work in promoting products that people actually want. Second, he wants to work in technological fields.
These passions have meant he's worked in video games, mobile technology and now the sharing economy. Thanks to his business focus on flexibility, he has enjoyed success in these fields and joined their journeys as technological advances took them from new, niche items to mainstream user pastimes and consumption models.
Noone's changing roles throughout his career reflect the rapid industry changes of the time. Nitro Media, the company he started in 2008, was a high-profile provider of games and apps for mobile carriers. At that time, mobile carriers had their own stores and sold games directly to consumers. Nitro cultivated deals with all the major operators, and boasted a large market share in the industry, particularly in the app space. As the industry shifted, so too did Noone in 2014. "A few  years ago I took the opportunity to transition out of that business and look for new opportunities," he says.
"Now in 2016 it's pretty much Google and iTunes that have captured all that market and the carriers really aren't focused on that market at all. It just shows how quickly the business moves on – it was very big business for a while."
The sharing CEO
The chance to move to a company that runs sharing economy businesses was a great one for Noone, who's always been interested in companies that are operating on emerging and exciting models.
"I really like companies that can solve big problems and are doing things differently for the first time," he explains. "When I was approached by the company to join this business I saw the sharing economy presented some big opportunities… the benefits to the economy and the benefits to the consumers of monetising unutilised assets are really quite profound."
From a marketing perspective, Noone saw it as a new and interesting way to meet the needs of consumers and companies. Just don't call it disruption! For Noone, it's a word that's had its day.
"I just feel that people think it's a bit of a generic word now. A lot of companies say 'we're disrupting', and it's like 'well really, are you?'"
Engaging the target market for businesses such as those run by Collaborate Corp requires agility and the ability to target both owners and renters of physical assets. "We have to segment those audiences, and quite often they are very different.
"Owners of the assets are typically very different to the renters of the assets, but we need to put those people together."
The start-up and consumer level of the sharing economy is heavily publicised. For Noone, however, many of his day-to-day roles as a CEO are similar to those in traditional corporations. "We're a publicly listed company, so we still have a lot of regulatory requirements, and we have to answer to shareholders.
"At the end of the day, no matter if you're a large business or a small business, you still need to solve problems for your customers and excite them, and make them want to participate or purchase your product."
Education and early career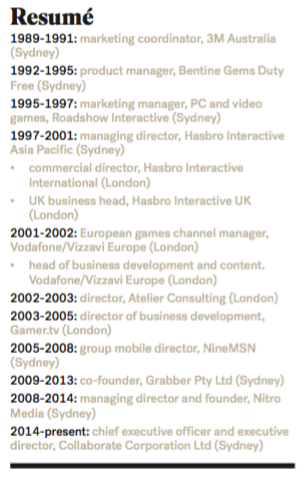 His decision to pursue a career in marketing was made pretty early in life. "When I was at school I did work experience with Ogilvy, which was really good, but I found that advertising was not quite the area for me. I also very much enjoyed economics at school, but that, I thought, would become a little dry afterwards." These experiences led Noone to pursue a marketing degree.
"I wanted to get involved in something that was really focused on consumers and meeting their needs, and sort of getting a buzz out of finding out what they need, and satisfying that need, and seeing the sales figures increase accordingly. That's probably been the foundation of my career, and has been a consistent theme throughout
my career the whole time, even though I left roles with marketing titles quite a few years ago."
He expresses a great interest and desire to work with products and services that people want. An early job at 3M provided valuable insight: "People needed those products… they didn't really want them."
His first chance to work in more desirable consumer items was as product manager at jewellery firm Bentine Gems, in the early 90s. Another insight: he not only wanted to work with products people wanted, but he also wanted jobs with a technological and innovation angle.
From here, Noone got into video game publishing in Australia and Asia, the first undertaking of which was as marketing manager of PC and video games at Roadshow Interactive in Sydney in 1995.
This would be the first step in a career that would evolve around gaming and technology for many years. "What really excited me there was it was an industry that was poised for a lot of growth, but it still wasn't really defined as to who would be the winners in that industry," he says.
These were the early days of game consoles like PlayStation and Sega, the former now responsible for hundreds of millions of dollars in revenue for Sony. Sega, on the other hand, pivoted away from hardware years ago, but still produces software. "It was a really interesting time to work with products and not only grow the company's revenue, but also participate in the growth of an industry and an education… video games were looking at the movie industry, saying, 'We could be that big one day', and that's pretty much what's happened now."
Over the course of Noone's career, video game and mobile technology and popularity has shifted and changed immensely, which meant success required flexibility, patience and innovation.
"The job I'm doing now, the industry that I work in and the technology that I use didn't exist when I went to uni. I couldn't have predicted the job I'm doing now, and what it was going to be."
The video game industry was the scene of one of his proudest career moments, when working as managing director of Hasbro's Asia Pacific division, which he started in 1997. In 1999, the Asia-Pacific division produced the highest dollar profit of any of the world's regions, despite also being the smallest territory at the time. This represented a growth of sales from zero to $7 million in two years.
Once again, Noone cites flexibility as one of the key reasons for success. "We had a lot of turmoil in the financial markets in Asia, a lot of companies exited the industry, and we were really nimble in understanding the changes at the time."
Noone would go on to work as Hasbro Interactive International commercial director in London, and finally as UK business head before moving across to Vodafone/Vizzavi Interactive Europe in 2001.
Venture into mobile technology
As head of business development and content at Vizzavi (Vodafone) Europe in London at the turn of the millennium, Noone had the chance to develop and market mobile phone games and content right at the beginning of their popularity.
"When I joined Vodafone in London to head up their mobile business, mobile games didn't exist. They brought me in from the traditional video game industry to really start imagining what this industry could look like, so that was a really exciting time, to come in with pretty much a blank sheet of paper to define a business.
"I knew right from the outset when I joined Vodafone that it was going to be big," he says.
Starting so early in the mobile app sales business meant dealing with uncertainty and doubt. "It was a bit of a scary time because we didn't know where the technology would go, we didn't know what the consumer uptake would be, we didn't know what the consumers really wanted."
While other brands tried to drive change and create the next big thing, Noone and Vodafone focused on creating quality product that made the most of the available technology, suited the devices and would therefore sell effectively.
"A lot of companies tried to leap-frog each other in terms of technology advancement and tried to launch multiplayer games three weeks after they'd first launched a single-player game. I could see very early on that we needed to take this slowly, that we needed to bring the consumers along with it, because we didn't want to overcomplicate things and bamboozle them with technology." Teething problems clearly existed with the development of what is now a daily habit for many smartphone owners.
"It took quite a long time for the industry to really understand what the consumers wanted, how they wanted to receive it, how they wanted to pay for it and how they wanted to engage with it."
Testament to his patience and focus on consumers' desires, Vodafone was very successful in the mobile game space, until the launch of the iPhone and Android changed the game again.
After his success at Vodafone, Noone worked as director of business development at Gamer.tv in London from 2003 to 2005. The consumer game review website produced TV and online content about gaming and distributed this to TV channels around the world, but a large consumer base had not evolved yet. This was before the growth of YouTube, so, for Noone, it's interesting to see how user-based content websites have exploded since then. "It's not companies that are producing all the content now, it's quite often individuals, who produce really specialised content for really engaged audiences," he says.
From 2005 to 2008, Noone worked at NineMSN in Sydney on Microsoft products for mobile – some of the biggest products in mobile and internet at the time were Hotmail and Messenger, and also the PBL products such as National Nine News, Cleo and Ralph.
While the industry was booming, Noone was careful not to look too far into the future. "I was very clear in saying that we can't do a strategy that's going three, five or 10 years in the future… Because we didn't know who our competitors would be in two years' time."
As the industry was changing so rapidly, Noone foresaw the need for product flexibility in order to resonate with consumers at that moment. This was before widespread smartphone usage brought about the easy ability to download and purchase apps and therefore before the ability to actively market to consumers via phones. "At that time it was very much trying to find those ways in which we could encourage people to engage with mobile content," he says.
Insight and experience
People from whom Noone derives most inspiration have been those who bring tenacity and passion to the workplace on a daily basis. "They're pushing to do something better, and no matter how many challenges are put in front of them, they understand the challenge, they solve it, they jump over that hurdle and move onto the next one."
He's also inspired by managers that have the ability to fully engage with their staff. "They look after them, they're able to generate a really good environment and attitude within the business."
Teamwork brings us to another theme that pops up through this interview and is clearly an important element to success for Noone. On the back of his steady rise from marketing manager to CEO, his advice for managers is all about building a great team. "That team's really got to share in the vision and they've really got to support you along the way," he says. "You're only as good as the people working with you. They've got to buy into the strategy.
Looking forward
As for the future, Noone wants to see Collaborate Corporation turn from a $10 million business to a $100 million business, or larger. He wants to continue involvement in all levels of the business – operational, strategic and stakeholder. The sharing economy is one that presents huge opportunity, and its growth is one that will harbour the growth of the company, too. "Moving more into the long- term, we see the sharing economy really as being a model that permeates every part of the economy."
Evidence already exists of the sharing economy making its way into larger organisations. "We're very pleased to see a few weeks ago the New South Wales Government has announced formally that it will embrace the sharing economy, both in terms of making it easier to engage with sharing economy services, but also encouraging their own government departments to use sharing economies as well."
Part and parcel with large organisations and online users adopting sharing; will be the care they take in their online sharing profile, much like the current efforts that individuals place in cultivating their social media profiles. "We'll start to see… people really thinking about their reputation and their profile in the sharing economy," he says, and not just using the marketplace for one good deal, but for the long run.
"We think we'll see people engaging in those longer- term platforms, and caring about building a good reputation, because once you build a good reputation, people who are looking to rent products or provide services to you, will see that you are a good risk, that you pay on time, that you look after assets, and are a good person to deal with."
As it has in Noone's career, the marketplace – and the devices with which consumers engage with it – is certain to change.
"You can't predict what job you're going to be doing in 20, 30 or 40 years' time," he notes. With that in mind, Noone's advice to marketers, or anyone really, is to "understand what your passions are, and what turns you on, because that really won't change throughout your career".
---
* * * * *
Purchase a subscription to Marketing and read career profiles on other Australian marketing gurus plus their top career tips and must-read book lists.
* * * * *