Top10 Cannes Lion-winning campaigns
With a week since the Cannes International Festival of Creativity wrapped up, Marketing mag has had time to reflect on what really stood out from the much-hyped Lions awards. The awards break down ad craft into over fifteen categories, drawing out the best of the best from around the globe and highlighting specific elements of the executions that excelled.
Most of the campaigns we've chosen to feature in our take on the best 10 from the field won the coveted Grand Prix award in the category they were entered in. In some cases, some of the campaigns won more than a single Grand Prix. With so many to choose from it was a difficult list to compile, and we're sure you have your personal favourites. Let us know what they are in the comments. Let's start with our number 10…
10. 'Repellent Radio' by Talent São Paulo, Brazil, for Go Outside Magazine
The Grand Prix winner for the Radio category – Brazil's Talent Sao Paulo for 'Repellent Radio' for client Go Outside Magazine – was lauded for its innovative use of a radio frequency to repel mosquitoes. By turning listeners' radios into mosquito repellent, Publicis Groupe-owned Talent used radio for experiential marketing. During deliberations, jury president Rob McLennan, executive creative director of Network BBDO in South Africa said, "We're all looking for a piece of work that changes the environment of radio that's never been done before."
If any of the below videos are not displaying correctly, please refresh this page.
9. 'Hilltop Re-imagined' by Grow Interactive for Coca-Cola/Google
The winner of the Grand Prix for Mobile re-imagined Coca-Cola's classic 'Hilltop' commercial for a modern audience, in the digital age. Fulfilling the promise of the original ad, it allowed users to connect with strangers by sending a Coke around the globe to an unsuspecting recipient. The ad was available on mobile phone apps in Google's AdMob network, across iOS and Android devices. Made possible through AdMob rich media ads, coupled with custom-designed vending machines, viewers can truly 'buy the world a Coke', with a few taps on their mobile phones. Once the Coke is delivered, recipients are not only treated to the generosity of a stranger thousands of miles away, but they can also say 'thanks' by sending a message of their own back to the user. That message is delivered to the user's inbox where they can read the note and view a video clip of the recipient's surprised reaction upon getting a free Coke.
8. 'Help I Want to Save a Life' by Droga5, New York, for Help Remedies
By making marrow registration a part of an everyday act, and a part of a mass-produced consumer product, Help Remedies reached a huge, new audience and reinvented the way marrow registration is done. The campaign set out to recruit thousands of new donors by making the process incredibly simple. It allowed people to donate when they were already bleeding, by furnishing them with a simple marrow registry kit into a box of over-the-counter bandages. Since its launch 'Help I want to save a life' has been seen by over 50 million people. Help's bandage sales have increased by 1900% and the number of marrow donor registrations has tripled.
7. 'Unhate' by Fabrica Treviso, Italy, for United Colors of Benetton
The modern miracle of Photoshop was at display in full force in this cheeky press execution. The ads featured world leaders, generally taken to be at odds with each other, locking lips. Three versions were submitted – USA and Venezuela, Palestine and Israel, and Germany and France. The campaign won the Grand Prix in the Press category.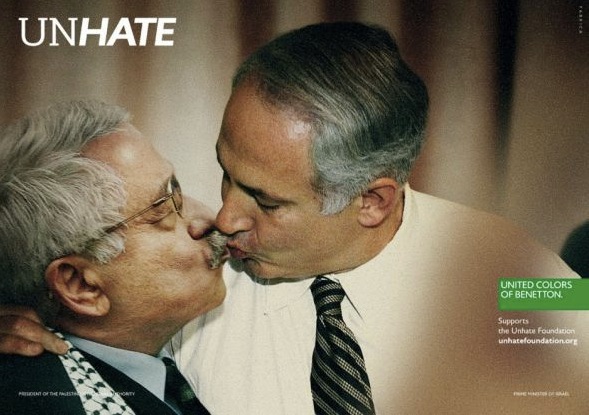 6. 'The Invisible Drive' by Jung von Matt, Hamburg, for Daimler, Mercedes Benz B-Class F-CELL
One of two Grand Prix winners in the Outdoor category was a campaign for the Mercedes-Benz F-CELL – the first hydrogen-powered car. To draw attention to this innovation the German agency made people experience F-CELL the same way the environment does – like it doesn't even exist. A B-Class F-CELL was disguised with mats made out of LEDs on one side and a camera on the other side of the car so that projected what was happening behind the vehicle thereby making it invisible.
5. 'The Solar Annual Report 2011' by Serviceplan Munich for Austria Solar
The Grand Prix in the Design category went to Serviceplan Munich's 'The Solar Annual Report 2011′ for Austria Solar, which was printed on paper to only be visible under sunlight. The design company use environmentally friendly photo-chromatic colours in just the right amount so you could not see anything without UV exposure. The brief was to develop a remarkable medium, which had to portray Austria Solar as a consistently innovative inter-trade organisation of the Austrian solar industry.
4. 'Small Business Gets an Official Day' by Crispin Porter + Bogusky for American Express
This campaign from hot shop Crispin Porter + Bogusky won two Grand Prix awards, scoring top of the class in the Direct and Promo & Activations categories. Originally released in 2010, the campaign saw American Express create 'Small Business Saturday', a new shopping day right after Black Friday, to help small businesses entice more customers. The challenge in 2011 was to cement its place as an official shopping day in the US, and drive solid business outcomes to America's independent, brick-and-mortar retailers. American Express built a marketing campaign that communicated the importance of small businesses, while driving home a call to action for consumers and small businesses at the local level. Consumers were asked to shop, and small businesses were provided with the tools they needed to get the word out to their customers.
The campaign sought to create a community, and drive demand for goods and services at small, independently owned businesses. In the end, 103 million Americans shopped small including President Obama, who took his daughters on a shopping trip to a bookstore in Washington, DC. The US Senate even declared Small Business Saturday an official day. In just its second year, it had become a permanent fixture on the holiday shopping calendar.
3. 'Share a Coke' by Ogilvy & Mather Sydney for Coca-Cola
'Share a Coke' narrowly missed out on a Grand Prix gong, but picked up multiple gold, silver and bronze Lions during the awards. With the campaign Coke wanted to adapt to the changing digital environment and needed a campaign that would encourage people to connect with the brand both online and offline. So in Summer 2011, Coca-Cola wanted a big idea to combat the competition and get Australians to sit up and notice Coke. A campaign was needed that would make a big splash and disrupt and excite Australians. The execution chosen saw people's names printed on Coke bottles and the infamous Coke billboard in Sydney's King's Cross as well as many other integrated uses of the personalisation tactic.
Read: Marketing's Share a Coke campaign post-analysis.
2. Nike+ Fuelband by R/GA New York for Nike
This experiential campaign saw innovation come to the fore with R/GA designing the user experience for a new Nike product – Fuelband. The highly-lauded product and campaign won the Cyber Grand Prix and a Titanium Grand Prix (recognising break-through innovation) in the Titanium & Integrated category.
Fuelband is a device that tracks your daily activity using a common, universal metric called Fuel for every active body out there. In designing the user experience R/GA ensured ease of use: set your goal, and get from red to green and animations to cheer you on when you reach a goal. Data visualisations show where you were most active daily, weekly, monthly, and beyond. Bluetooth synch technology wireless syncs your Fuel to the platform so when you finish your day the statistics are automatically updated.
1. 'Cultivate' by Creative Artists Agency for Chipotle
This campaign for American fast food brand Chipotle won Grand Prix for both the Branded Content & Entertainment and Film categories. Chipotle wanted to raise awareness of its sustainable and healthy food practices and inspire a broad audience to care about their food. Creative Artists Agency created the platform 'Cultivate' invite customers on a 'food culture' journey. It launched with an animated short film on the state of the food industry called, 'Back To The Start', which depicts the life of a farmer as he slowly turns his family farm into an industrial animal factory before seeing the error of his ways and opting for a more sustainable future. Backed by Coldplay's 'The Scientist', performed by country music legend Willie Nelson, the film asked fans to download the track on iTunes, with proceeds going to the Cultivate Foundation and FarmAid.
Distributed using a digital-first strategy, the film first launched on YouTube with no paid media support. The launch was supported with an earned media plan and the social media assets of Chipotle, Willie Nelson and Coldplay to a collective audience of 21 million Facebook fans. Next, the campaign added paid digital while shifting to the big screen with Back To The Start spending eight weeks running on more than 10,000 theatrical screens across the nation. Finally, the campaign ran in its entirety, during the 54th Annual Grammy Awards to an audience of over 40 million viewers. It ignited a conversation in pop culture, with over 5000 relevant mentions across blogs, Twitter, news, forums, Facebook and earned 11,024,870 impressions via Twitter alone. To date, the film has been viewed over six million times on YouTube and earned over 300 million media impressions.