Top10 experiential marketing campaigns of the year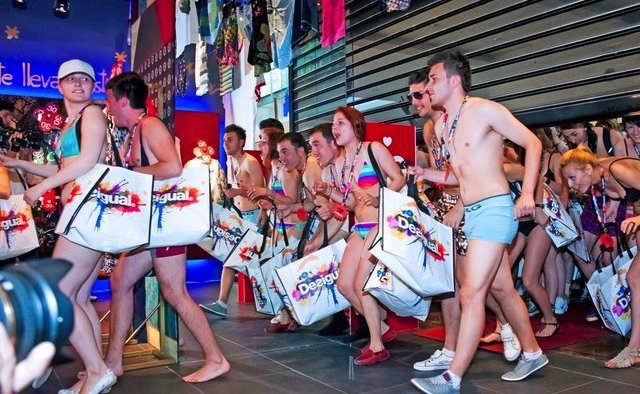 Top10 experiential marketing campaigns of the year
Cool, weird or downright epic, experiences touch an audience like nothing else. They grab and hold attention, create deep and lasting associations and are talked about long after they're over.
Experiential marketing is a multifaceted and oft-misunderstood discipline, so without getting too hung up on definitions, Marketing brings you this Top10 featuring ten of the best brand activation experiences this past year has seen.
10. Desigual – Undie party
A free outfit from Desigual, with one small catch: you have to turn up to the store wearing only underwear and a hundred other people will be doing the same. And if you're number 101 you're left out in the cold.
9. Lipton Ice Tea – Misting station
It may not be as intricately orchestrated or on the same scale as some of the others on this list, but this installation for Lipton Ice Tea gets right at the heart of what 'experience' truly means. The person viewing the ad isn't just being told what to buy, but is instead being subjected to a sensation that (Lipton hopes) will create a subconscious, and very powerful, association with the brand.
8. Carlsberg – Bikers in cinema
'This is going to be cosy' – These are the words uttered by your date as you enter a cinema to be confronted by hundreds of bikers and only two seats left, right in the centre. Should you turn around and leave? What could possibly happen if you stay?
7. Coca Cola – Happiness Truck
A four-wheeled successor to the virally successful 'Happiness Machine' of 2010, Coca-Cola's 'Happiness Truck' took to the streets of Rio De Janeiro to dispense sunglasses, beach balls, surfboards, as well as a substantial amount of black, fizzy sugar-water.
6. Corona – Save the Beach Hotel
Built by a 'famous artist of trash' (no, not Britney), the Save the Beach Hotel was created to draw locals' attention to the littering problem on European coastlines that Corona has been nobly championing for years, apparently. The statistical results at the end are a highlight. For bonus cynicism points: see how many discarded beer bottles you can spot in the walls.
5. NAB – Break Up
A local hero that has just won NAB's CMO the title of Australian Direct Marketer of the Year, not only did it make notable appearances in social media, TV, print, choppervertising, you name it, it also saw 'Doug' tied to a pole and a pianist on the back of a truck singing break up songs as he's driven around Melbourne to the Commonwealth Bank, ANZ, and Westpac.
4. Ministry of National Defense (Colombia) – Operation Christmas
Here's a campaign that's not trying to sell a product or service brand, but an idea. Specifically, the campaign's purpose was to encourage members of guerrilla groups hiding out in the Colombian jungle to demobilise for Christmas (guerrilla marketing joke goes here).
Depending on your mood and/or personality the music and copy in the video might make you cringe or it might grab your heart strings and rip them out of your chest. Either way, the campaign won Lowe SSP3 a bunch of awards.
3. T-Mobile – Angry Birds Live
Setting up a life-size version of the wildly successful Angry Birds smartphone game is very cool. Cutting together a video montage to exclude all the time spent rebuilding the thing and including your marching band and shots of people laughing and holding up smartphones is even cooler. Although, it's not promoting Angry Birds, so if you weren't told it was for T-Mobile, would you have known?
2. MINI – Getaway Tokyo
Okay, so it won't start until Saturday (December 3), but if this Tokyo version is anywhere near as successful as last year's game in Stockholm (it doubled sales), it should be a runaway hit. This time the game is spread over an area of 620 square kilometres (32 times larger than last year's), and is playable on Android phones as well as iPhones. Players hunt for a virtual MINI with their GPS-enabled smartphone and then try to hold onto it for as long as they can. Anyone within 50 metres can grab the virtual car, and the player in possession of it at the end of the 9 day game wins a real MINI.
1. Bing – Decode Jay-Z
The sheer scale and budget that went into this execution boggles the mind. By spreading the pages of rapper Jay-Z's autobiography throughout American cities and on all manner of media to create both a real-life and virtual treasure hunt tied together by Bing's online property, Droga5 New York created an experience and publicity dream, not to mention an awards magnet.