Top10 gamification executions
Gamification, or the use of gaming dynamics to influence user behaviour, is gathering steam as a marketing tool for engaging consumers and delivering messages. It's been praised for its ability to help brands engaged with consumers on a deeper level and step the consumer through to purchase intent. While it is still a discipline in its infancy, pioneering brands are turning their attention to it as an alternative to advertising to get their messages out. Going deeper, the technique shows the potential to redefine the customer-product relationship and involve consumers in experiences that help them develop stronger relationships with brands.
Marketing presents this Top10 looking at gamification executions, primarily from Australia but also including a few stand out examples from around the world. Game on.
10. Fruit Ninja Kinect, Neuroscience Research Australia
A version of Fruit Ninja, where players smash virtual fruit, is being used by Neuroscience Research Australia to assist the elderly in recovering from medical problems, staying fit and even preventing devastating falls. As part of the research body's iStoppFalls program, which also uses other video games to the same effect, a slowed down version of the game is available on Xbox Kinect, allowing the elderly to play along with their grandchildren.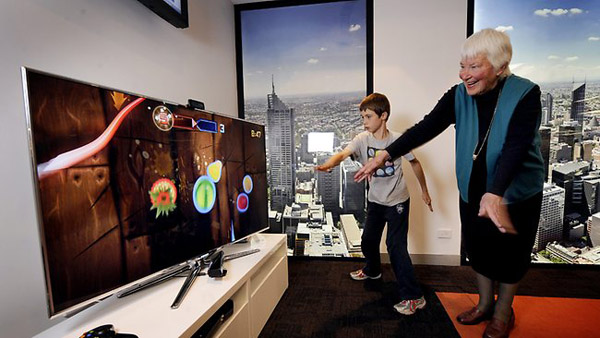 9. Fallen Angels, Lynx
Lynx involved commuters in an interactive augmented reality game in a subway in London in March 2011. Passengers were lured towards patches on the floor of the open concourse, which activated by sending a virtual angel to earth when someone stepped onto them. Participants could then watch themselves interact with the virtual angel on the a big screen overlooking the concourse.
If you can't see the videos below, please refresh this page.
8. Coinland, Commonwealth Bank
Designed for children aged five to 10 years, Coinland is a virtual world where children can learn about the benefits of earning, saving and investing money by undertaking a series of tasks, designed to help them develop financial literacy skills. Players create an avatar which represents them as they explore and interact in Coinland, as they complete tasks or jobs to earn and save coins. Players can then choose to save their coins by depositing them in the bank, or spend their coins on games and rewards. Children can play alongside their friends by adding other users to their buddy lists.
7. Dream Team, AFL
AFL's Dream Team game is open to anyone to join for free, select a team of 30 players, and then receive point based on the performance of those players in order to go into the running for a prize pool. Participation rates in the game are high, and the AFL generates content around the game including a Dream Team show and news updates on player performance. Teams must be selected in a realistic manner, within the salary cap restrictions. Players also compete in public or private mini-leagues against friends to go into the running for the grand prize of a Toyota FJ Cruiser.
6. Nike+, Nike
Nike has essentially taken a lone sports in running and other training pursuits, and made them social with its suite of Nike+ applications. For example, the Nike+ tag running app, links running directly with social gaming, pitting users who have downloaded the app against each other in a game of tag. Nike's gaming strategy makes it easier for people to get motivated to exercise, by using gaming mechanics such as rewards and trophies in return for challenges met, incorporating the social element of competing against friends.
5. Re-Mission, HopeLab
Re-Mission is a video game developed by HopeLab specifically for adolescents and young adults with cancer. Players of the game pilot a nanobot named Roxxi as she travels through the bodies of fictional cancer patients destroying cancer cells, battling bacterial infections, and managing side effects associated with cancer and cancer treatment. Messages delivered through this game hit home, to the point that kids involved in the game were more likely to take their tablets and had better recovery rates than those that didn't.
4. Sparx, New Zealand Ministry of Health and University of Auckland
SPARX is a self-help computer program for young people with symptoms of depression. A 3D fantasy game, it was was developed by adolescent depression specialists from the University of Auckland, to engage youth in a self-learning depression management program. Players learn cognitive behavioural therapy techniques for dealing with symptoms of depression by travelling through different stages of the role-playing game geared at addressing different aspects of the illness. Results from the trial of the game found it to be more effective than medication and as effective as face-to-face treatment.
3. Investorville, Commonwealth Bank
Combining actual market data with innovative technology, Investorville is an online simulator that lets users try their hand at property investing without risking their own equity. It's an engaging way for the bank to deliver complex messages around investing and whet the appetite of consumers thinking of taking on an investment property. The site has had over 100,000 visitors and of those 23,000 have taken the time to register and enter their details into the game, resulting in 630 loans. The game also supported the position of being technology leaders that CBA is gunning for, and resulted in significant PR for the business with editorial coverage in 88 pieces reaching an audience of 6.6 million.
2. Taste Invaders, Moove/Masters/Big M
Created by RedLever, interactive augmented reality game Taste Invaders enabled event goers  to participate in a game where they watched a screen that showed themselves with virtual milk cartons falling around them which they needed to catch in a butterfly net. The experience developed for Lions' milk brands Moove, Masters and Big M's, visited three states alongside giant sculptural 'Mphones', which added to the visual spectacle and entertained the crowd with music.
The buzz factor of augmented reality appeared to capture the attention of the milk's brands' target audience, integrated new technology with simple, fun gameplay.
1. Jay-Z: Decoded, Random House Publishing Group (RHPG)
For the launch of Jay-Z's memoir Decoded, RHPG launched using a unique social game that attracted public interest and incentive. Engaging the curiosity of customers, pre-released pages of the memoir were printed on various surfaces and hidden around the world – from food wrappers to the silk lining of a Gucci jacket. Conducted as a partnership with Bing and headed by New York ad agency Droga5, the campaign aimed to get an audience not known for reading books interested in doing so. Over 300 pages in 600 placements in 15 locations worldwide were hidden, for players to find, assemble and decode the book together online before its release date.