Top10 tennis-themed ads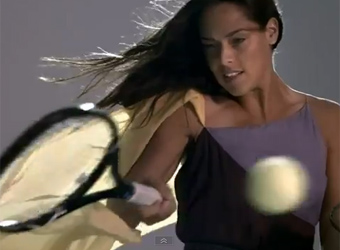 With the US Open winding up this coming weekend, Marketing takes a look at the best commercials based around tennis and its stars. Being a truly global sport, and one of the most watched and played sports worldwide, the game and its personalities command significant sponsorship dollars.
Most of the videos featured in our list appear on Unruly Media's list of the most-shared tennis ads of all time, which surprisingly doesn't feature Anna Kournikova and is dominated by men not women. Federer turns out to be the most viral worthy, with not even Nadal prancing around in his underwear able to take to the number one ranking from the Swiss star.
10. Nike – Roger Federer
This ad from Nike features Roger Federer at home showing off his skills with the racquet while battling an intruder pretending to be his coach. With 2.5 million views and 126,833 shares, the quirky ad's success is testament to Federer's star power, particularly given it was only released this year.
If you can't see the videos below, simply refresh your page.
9. Head – Andy Murray Tennis Street Magic in London
This ad, released in the lead up to 2010's Wimbledon championships, features some handy racquet work from Scottish player Andy Murray. The Scot takes his tennis magic to the streets of London to prepare for the tournament, showing pin-point accuracy on a number of targets. At the end of the ad Murray uses paint soaked tennis balls to draw his racquet sponsor Head's logo on the wall. It's been shared 48,084 times, making it the tenth most shared tennis-themed ad, according to Unruly.
8. Optus – Australian Open 2011/2012
This campaign has run for a number of years now, continuing Optus' animal theme while linking in with the Australian Open. Crocodiles play with what looks like a sugar glider in this ad for the teleco. It's the seventeenth most shared on Unruly's list with 7575 shares.
7. American Express – Roddick vs Pong
Aired several seasons ago, this ad for American Express features American player Andy Roddick, who announced his retirement last week. The spot pits Roddick against pong, an opponent which proves unassailable until the canny American works out its weakness.
6. Head – Andy Murray 'Like'
With the primary goal of building the number of likes Head has on its Facebook page, this campaign uses Andy Murray to entice people fans to 'get closer to Andy Murray' and support him during Wimbledon. It's been shared 6949 -most of those probably sparked by the nude shower scene.
5. Nike – Cristiano Ronaldo vs Rafa Nadal
This ad is not for a tennis product – it's for Nike's 'Mercurial Vapor VIII' football boot. But it combines the star power of tennis player Rafael Nadal with that of footballer Cristiano Ronaldo, as the pair duel against each other, racquet versus boot, to test out the shoe's ability. It's the most shared video on Unruly's list with 909,800 shares and has received over nine million views on YouTube.
4. Armani – Rafael Nadal for EA Underwear and Armani Jeans
Shot in black and white, this TVC depends on two factors alone – production values and Nadal's brawn. It's in a similar vain to the brand's ads casting soccer stars David Beckham and Ronaldo. With only 31,473 has Nadal lived up to their lofty standards as a poster boy?
3. Nike – Andre Agassi, Red Hot Chili Peppers
From 1990, this commercial teams Andre Agassi with the Red Hot Chili Peppers to bring the rock to tennis. One of the original tennis brats, Agassi was synonymous with the brash American spirity of the 90s.
2. Jacob's Creek – Andre Agassi in 'Open Up'
This campaign also features Agassi but after his transformation from brash teen to statesman of the game. Created for Jacob's Creek, the content proved so compelling Channel Seven aired it during their live telecast of the Australian Open. Agassi talks the psychology of competing in the Australian Open and using the elements to your advantage, in the spot designed to take Jacob's Creek into premium brand territory.
1. WTA – Strong is beautiful
This campaign for the Women's Tennis Association (WTA) showcases the strength and beauty of the players, while teasing out the stories behind some of its biggest stars. Emotively shot, the campaign features a short film that is supported by 120-second TVC and 30-second spots focussing on the stars in isolation to tell stories relevant to the country they hail from.