Wolf Blass sponsorship of Manchester City FC extends winemaker's Asia strategy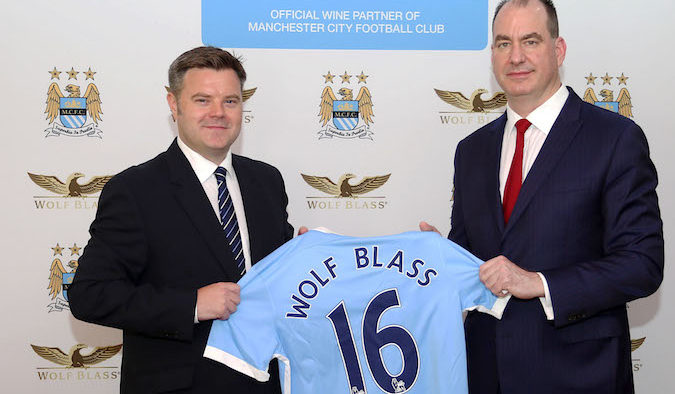 Wolf Blass has become Manchester City's official wine sponsor for Asia, the Middle East and Africa, and Mexico.
Australian wine brand Wolf Blass has announced a multi-year partnership with Manchester City Football Club, becoming the club's official wine sponsor for Asia, Middle East and Africa, and Mexico.
The lucrative contract sees Wolf Blass increase its global footprint, particularly into Asia. The Manchester City FC deal is the latest in a string of sports sponsorship deals targeted at Asian audiences, with the likes of China's National Basketball Association and professional baseball leagues in Japan and Korea.
The multi-platform agreement will enable Wolf Blass to engage with football fans in new markets via in-store promotions, cobranded merchandising, giveaways, digital and social media activations, as well as social events.
–
Related: Leicester City's EPL win that broke Twitter »
–
"Wolf Blass has a long association with competitive sports… So we are thrilled to be involved with the number one sport globally, and one of the most popular and successful football clubs in the world," says Robert Foye, president and managing director of Asia, MEA, and Latin America at Treasury Wine Estates, the owner of the Wolf Blass brand.
As official wine partner in these regions, Wolf Blass has the opportunity to engage with Manchester City 's boasted 240 million fans worldwide, and further engagement due to the club's growing presence on social media.
"Our new partnership offers us an exciting opportunity to connect with fans and consumers worldwide and we are looking forward to working with Wolf Blass as we both continue to grow in new and interesting ways," says Damian Willoughby, VP director of partnerships, APAC at City Football Marketing says.
"Through this partnership with Manchester City FC, Wolf Blass will bring to life our global brand campaign 'Here's To The Chase', which celebrates the bold pursuit of triumph," says Foye.
---
* * * * *
Purchase a subscription to Marketing for analysis of Australian and global brand marketing campaigns and sponsorship strategies.
* * * * *