WWF selfie campaign promotes awareness of threat to Great Barrier Reef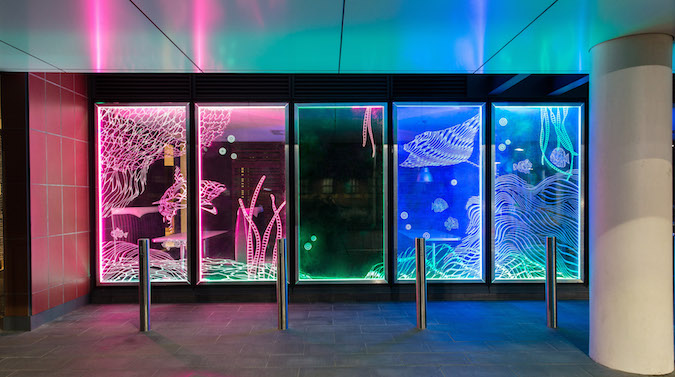 A new installation from WWF Australia and Leo Burnett Sydney features a light display of the Great Barrier Reef, which it invites passers-by to take selfies 'before it's gone'.
Leo Burnett Sydney has created an LED edge-lit installation of the Great Barrier Reef, to help WWF Australia draw attention to the impact of global warming on the Reef.
The installation, which spans five window panes of Leo Burnett's offices in central Sydney, coincides with Vivid Sydney.
Passers-by are encouraged to stop and take a selfie, and take action 'before it's gone'.
When an Android smartphone is held in front of the installation, a hidden infrared light message, invisible to the naked eye, appears on the screen, with the message: 'The Reef's biggest threat is invisible: Help us stop global warming. #FightForTheReef."
–
Related: Marketing spoke with Dee Madigan about the PR pollution clouding climate change discussion »
–
"We are proud to be able to help WWF shine a light on the devastating impact global warming is having on the Great Barrier Reef. This campaign communicates an important message about the threat to colourful reef-life at a time when our city is – ironically, bathed in a celebration of colour," says Pete Bosilkovski, CEO, Leo Burnett Sydney.
The bleaching of 93% of the Reef – due to rising ocean temperatures caused by global warming – continues to make headlines.
"It's devastating coral bleaching that's shone a light on the Great Barrier Reef recently – now it's great to work with Leo's to shine a different and innovative light on the Reef. The Reef can recover – but we have to cut the pollution fuelling global warming, and we need to do it quickly. One selfie at a time – we'll get the message out there," says Dermot O'Gorman, CEO WWF Australia.
---
* * * * *
Join Marketing Pro for detailed discussion and analysis of Australian branding and communications.
* * * * *