Xero urges small businesses to deal with the financial elephant in the room in biggest push to date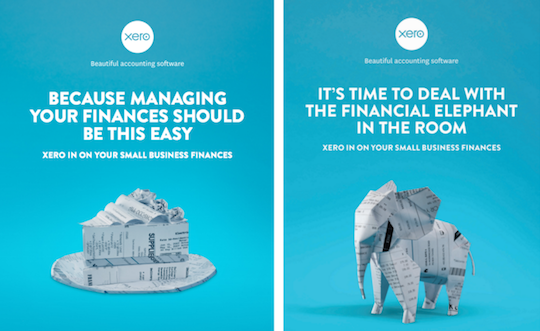 The cloud small business accounting software service Xero has launched its widest-reaching advertising campaign to date.
It urges small business owners to 'deal with the financial elephant in the room'.
The campaign, made in conjunction with APN companies including Emotive, Australian Radio Network (ARN) and Adshel, and PR agency Sling & Stone, addresses the burden small businesses deal with when facing piles of paper receipts, invoices, and other paperwork.
The campaign aims to portray the message 'Xero has made accounting beautiful', with creatives showing origami animals and objects made of receipts and paperwork, or 'Xerogami'.
Xerogami objects include an elephant, a horse, a slice of cake and a box.
The campaign sees Emotive join forces with Adshel and ARN to create an integrated strategy across online video, radio and OOH.
"With emotive, ARN and Adshel, we created a campaign that used popular idioms and the concept of receipt origami, to make something beautiful out of the often chaotic paper-based accounting systems that many Australian businesses continue to used today," says Trent Innes, Managing Director of Xero Australia.
Simon Joyce, CEO and founder of Emotive says "our challenge was to create an engaging content idea that would demonstrate how business finances could really be something insightful."
"Using a simple visual mechanic we were able to craft a content-first strategy that helped land the message and works seamlessly across social video, radio and outdoor," Says Joyce.
"The audience ARN and Adshel provides advertisers is unrivalled in power, combination and reach. When you overlay this with the content expertise and creativity by Emotive, you can see the sort of effectiveness APN assets can offer. The collaboration between Xero, Emotive, ARN and Adshel has let to this unique and high-impact campaign that delivers ease to business owners nationwide" says APN CEO Ciaran Davis.
Xero has 600,000 subscribers in over 180 countries.
In 2014 it was ranked by Forbes as the world's most innovative growth company.
Here's the 15 second online video.